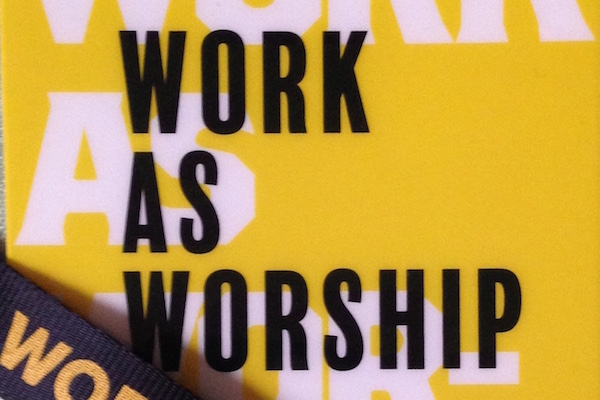 Our topic of conversation around the table at lunch yesterday was "faith in the workplace." My husband Ron had recently attended a conference on that very subject so he had some "takeaways" to share with us and discuss. For a Christian, all of life is an extension of our faith, including the time spent at work and the relationships made there. But, how do you live out your faith at work without stealing time from your employer?
That question lingered in my mind. Yes, many employers allow employees to have a lunch break, and one can certainly try to lead a weekly Bible study during that designated lunch break, inviting fellow employees to join. Or, employees can meet before the workday begins. That is how we usually think of faith in the workplace.
With the ease of cell phone apps and social media, it is tempting to read a devotional or follow someone's link to a spiritual blog or article during the workday when one should be concentrating on the job at hand. Lack of discipline in this way shows a lack of respect for the employer, which certainly doesn't bring glory to Christ. The Bible teaches that we are do everything as to the Lord and not to men. That includes being an employee with integrity in our time, words, and mission to benefit the company.
I know someone who has a chair next to her desk. She lets people know that they can come to talk to her during their breaks about anything on their hearts. If it is job-related, they can talk during the work time. Otherwise, she will talk to them during a scheduled break time. That is a good way to live out a caring faith in the workplace.
This morning another idea came to me. What about letting your co-workers individually know that you believe in a prayer answering God and would like to pray for them? Simply asking, "How may I pray for you?" Provide a box in your desk area that is closed (even locked) but with a slot in the lid and some pen/note paper nearby so they can write a request and put it through the slot, away from prying eyes. Then, at the end of the day (or during your lunch break), take those requests out to pray for your co-workers. Watch what God does! Then, acknowledge and celebrate the answers with the one (privately, of course) who wrote the request. Maintain confidence about anything shared!
I didn't think about doing this prayer box at my last job. But, I think my employer would have been fine with it. And, I might have had more of an impact on my fellow employees than just being kind and caring in the work environment and privately praying for each of them at home.
What about your employer? Your workplace? Any other ideas?
---
More Resources:
Your Work Matters to God by Sue Bohlin
When Did Good Workers Get Labeled as "Haters
Doing a Lunchtime Bible Study at Work
Perspective Bible Study of 1 & 2 Thessalonians (read online)
Perspective Bible Study of 1 & 2 Thessalonians (download pdf)
How to Glorify Christ in the Workplace.