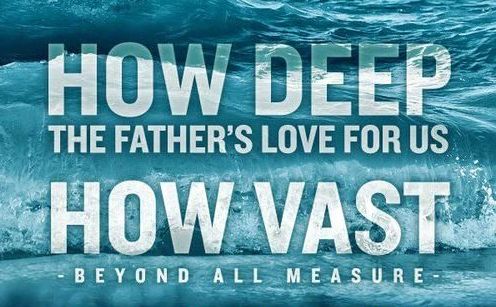 How Deep the Father's Love
His name is Jason. He's in his early 20s, lives daily with physical difficulties so that he can barely walk. His father helps him walk to his seat at church and holds Jason up so he can help take the offering during the service. What captured my attention is the look of deep, deep love on the father's face as he interacts with Jason, his son. A son who will never be the star quarterback or ace pitcher or do any of those other "great" things a father might expect from his son. How deep the father's love for Jason! This father-son relationship was so beautiful to behold that I had to ask more about Jason's story.
Born with Cerebral Palsy, Jason has both mental and physical limitations. For a number of years, he was active in Special Olympics but recently has had such physical decline that he needs help to even walk now. I was told that Jason loves worship music and sports; he also loves family and friends. I've only recently become acquainted with Jason and his family, from a distance, just watching them. What struck me the first time I saw them was how his father looked at him with such love!
My sister Cheryl directs the Special Needs Ministry at Calvary Baptist Church in Alexandria, LA. She'd be the first to say that often when a child is born with disabilities or becomes disabled, the father is quickly out of the picture. How many movies have you seen where the mom is left to raise a mentally or physically challenged child alone? I've seen it happen to a family in a church we once attended. Jason's father doesn't look at him with disgust or annoyance because he squirms a lot and needs help to go anywhere. He doesn't look exasperated because he needs to help Jason go to the men's room right in the middle of a sermon. He looks at him with love, a deep father's love!
I had seen Jason's dad whisper to him during the service, especially during singing time. My first thoughts were that the dad was trying to keep him quiet or calm or attentive. But, no! Someone explained to me that Jason loves worship music but can't read the words on the screen. So, his father whispers in his ear the next line so that Jason can sing along! Oh, my!
On the next Sunday I saw them, the worship team started singing the beautiful song, "How deep the father's love for us." The song begins: "How deep the father's love for us, How vast beyond all measure." I glanced over and watched Jason's dad hold him up by the belt loops of his pants so he could stand and whisper in his ear the words to sing so Jason could sing along. And, Jason just smiles back and sings. The tears just started flowing from my eyes. Yes! What a beautiful picture of how deep a father's love for his son! And, how deep our Heavenly Father's love is for us as well.
I've experienced that deep father's love. My earthly father loved me dearly so I have had no difficulty believing that God truly loved me as a Father. And, through the years, God my Father has held me up when I just couldn't hold myself up just as He promises in Isaiah 41:13, "For I am the LORD your God, the one who takes hold of your right hand, who says to you, 'Don't be afraid, I am helping you.'" There have been times in my life when I felt too weak to measure up to whatever I was supposed to be. I looked at all my inadequacies, all that I couldn't do right or as well as others. I felt afraid. I know my God was holding me up during those times, even by my belt loops as well as my hand, just to give me that extra strength to stand. And, He has whispered in my ear—through His Word, His Spirit and/or someone's teaching—just what I needed to know for that moment. Our Father God's promise is this, "My grace is enough for you, for my power is made perfect in weakness." (2 Corinthians 12:9)
But, even if you haven't experienced an earthly father's love like that, it doesn't negate God the Father's deep love for you. Picture yourself sitting in Jesus' lap, holding out your right hand for Father God to take hold and whisper in your ear, "Don't be afraid, I am helping you."
How deep the Father's love for us, how vast beyond all measure. I know that to be true. And, a big thanks to Jason's dad who showed me what that kind of love looks like with skin on.
---
More Resources:
Trust God's Choice in Addressing Your Pain
Perseverance in the Rough-and-Tumble of Life
What's Left When Our Props Are Removed
More "Pain and Suffering" Articles