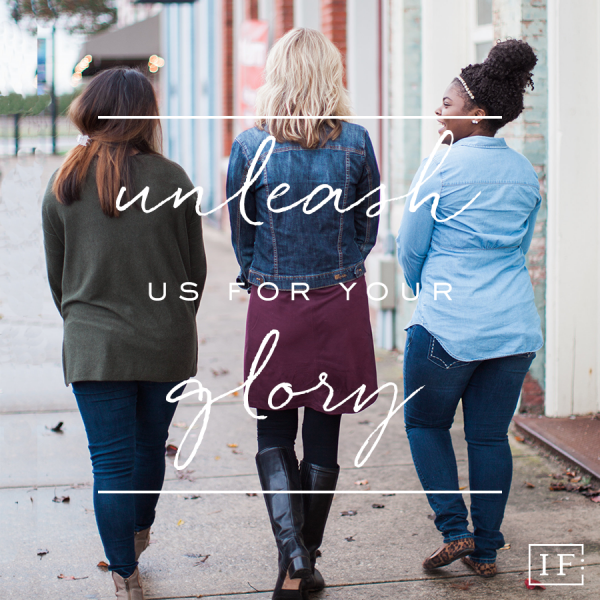 IF:Gathering 2016 — Then what?
Two weeks from now (on February 5-6, 2016), millions of women will be gathering in public places (churches, retreat centers) and private homes for IF:Gathering 2016. IF:Gathering began as a call from God to a 30-something Texas pastor's wife, Jennie Allen, to disciple a generation of women in a life-on-life way. Soon, an army of like-minded women gathered with Jennie and launched IF:Gathering. IF:Gathering exists to gather, equip, and unleash women across generations, denominations, and cultures to live out God's calling in their lives. The "IF" part comes from the essential question, "IF God is real… Then what?" This February 5-6, IF is hosting the third annual IF:Gathering, a two-day event "where we will set our eyes on Jesus, our salvation and the example of what it means to live in the fullness of grace and truth." Is this a movement of God that will have impact lasting for decades to come? I hope so. A lot depends on what women do with the "Then what?" after their gathering.
In 2014, I remember reading on Facebook that one of my local friends was inviting women to her IF:Local in early February. There was little explanation, and I didn't bother to Google it. From her posts shortly after the gathering, it sounded like a venue for women to buy jewelry or other products to help women in poverty-stricken countries get released from the sex trade. I really didn't hear any more about IF that year or pay attention if I had. And, the young moms in my MOPS group weren't talking about it so I really had no clue what it was.
Then, last year, one of my fellow bloggers wrote about IF:Gathering 2015 showing a picture of women around a table sharing a meal and life with God. Again, I wasn't drawn to it UNTIL I saw that two of my friends from different states traveled to Austin, TX for the actual gathering there. And, I began to read about this being livestreamed to places around the world where thousands of other women were gathered to watch at what was being called IF:Local. Hmm. Is this something worth checking into?
So, I went to the source—the IF home page and started reading about it. The stated goal of this ministry/movement is to gather, equip, and unleash women to live out God's calling in their lives. I read that the dream is that ordinary women would become leaders who rise up to make disciples in every city in the country and every country in the world. I'm all for that. For years, I've been training women to become disciplemakers as Jesus called us to do. Will IF:Gathering equip women to make disciples, not just be disciples?
Last summer, a local church started advertising that it would be hosting a local gathering called IF:FLOMO on February 5-6, 2016. I signed up to attend along with my daughter. IF this is a movement of God calling women together to actually do more than just enjoy community as Christians but be equipped and released to impact the unbelieving world around them, THEN I want to be a part of that!
Last fall, I attended a women's conference at DTS with Jennie Allen as the keynote speaker. So, I heard more about IF, confirming I want to be part of this gathering that is drawing in Generation X and Y women and getting them excited about pursuing Christ with their lives. Yes! I am really looking forward to attending IF:FLOMO in a couple of weeks alongside hundreds of other women, hopefully representing all ages from teens to 92. There will be 6 IF:Local locations in the area where I live (4 public and 2 private) and 160 (public and private) in the DFW metroplex! Find one near you.
Any woman is welcome to attend an IF:Gathering, even those who have doubts about God or have neglected their faith for several years. At this 2-day gathering, women are invited to wrestle with belief that God is real, the places in our lives where we are struggling with unbelief, how can we overcome unbelief and then what God can do with our belief. Yes!
Going back to my opening question: Is this a movement of God that will have impact lasting for decades to come? I pray that it will. A lot depends on what women do with the "Then what?" after their gathering. Women have no problem gathering together. We love that. Being released often means go out and do your thing. It's the EQUIP part that I question. How well will women be equipped to actually share their faith with those around them who have never really been introduced to Jesus or true Christianity apart from what's been portrayed in the media or from a stale church background? I'll be back to report next month.