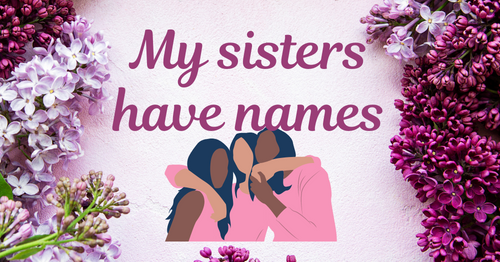 Several women gather in a small African hut on Tuesday mornings to praise Jesus. Most are from the same tribe; a couple of them are missionaries. There are no decorated tables or spiral bound study books. Only a few can read. They walk long distances to get there each week. And they have names.
I love that I know their names – these sisters of mine in Christ – because the newsletters from our missionary friends tell me their names, their stories, and provide pictures of them. They are not just nameless converts. I know their names, what their life is like, and can pray for them as they meet every Tuesday morning. As though I were there with them. They face many of the same issues that you and I do—simply because they are women. I am grateful to know that.
Julie is the hostess for the group – an older woman with knee pain, poor (as they all are), and the light of Jesus to those around her. I picture her welcoming the women to her small hut to listen to a Bible lesson and to pray for one another. I've been part of women's Bible studies for years, many of them meeting in someone's home. I can identify with Julie as she greets my sisters. Some days the hut is blissfully crowded; recently, only 2 came. I know from experience that some heart issues are best shared when few are present.
Alysa is a faithful member of the weekly women's group. Alysa is fearless in sharing the gospel recordings with those who come to her house. Her 19-year-old son recently invited his friends over to listen to the recording of Joseph's story. Moms have such influence, don't they? Alysa has experienced conflict with her sister-in-law for years. Yet, she has a genuine desire to obey the Lord so she recently took the initiative to forgive the past hurts inflicted by her sister-in-law and has been faithfully playing her part as peacemaker in the family. We need peacemakers in our families, too, don't we?
DeeDee came last month for the first time in two years. Her husband has taken another wife, and DeeDee is hurt and angry. She stopped coming to the women's gathering because she would go home encouraged only to become discouraged by her husband whom she says is pretending to believe, or at best, not wanting to obey the Lord. DeeDee knew that it was important to live out the truth she heard, but she would get so mad at her husband that she wasn't obeying the truth she was hearing. So as not to feel guilty for lack of obedience to the new truth she would learn each week, she just stopped going to the ladies' meeting. You probably know someone like that. Now, DeeDee's back and receiving the support she needs to face the challenge. Women need to support one another through trials—in all countries.
Sue is a widow with a young child who joins them occasionally; she lives 8km away—by foot! Her love for Jesus is evident to all, and she has real concern for her unbelieving relatives. I've known Sue's story for two years, and my heart has been drawn to pray for her frequently. Her faith is infectious and strong. She is one of the few women who can read and is regularly being discipled. I have been praying that she become the "Beth Moore" for her community.
These, my sisters, are women like you and me. I am so grateful to know their names and their stories—even if only through monthly newsletters. (By the way, I've substituted names here to protect the real women.) I love praying for them on Tuesdays, as though I were part of their group. I AM part of them! They are women like I am and my sisters in Christ. Thank you Jesus for this faithful group of women half a world away!