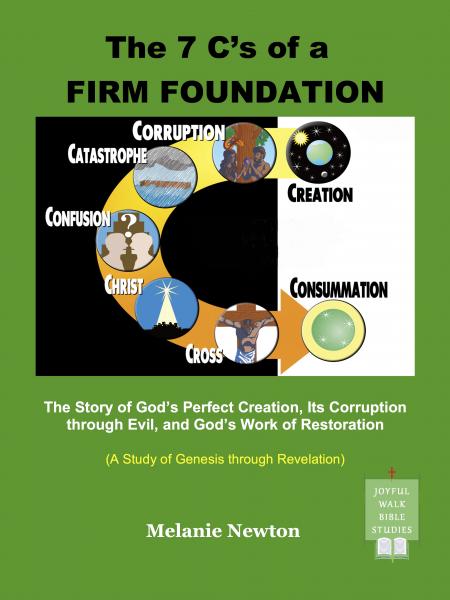 Start the Year with Genesis
If you just started reading through the Bible this year, you are probably right in the middle of Genesis. Want to really dig into this wonderful book? I have some suggestions below that will help you do just that. Happy digging!
---
Want to see the big picture from Genesis to Revelation? And get some of your creation science questions answered? The 7 C's of a Firm Foundation Bible study will take you there. This study is based on Genesis 1-11 regarding the "7 Cs of History"—Creation, Corruption (the Fall), Catastrophe (the Flood), Confusion (the Tower of Babel), Christ (Old Testament prophecies), Cross (Jesus' fulfillment of prophecies), and Consummation (restoration of God's creation).
Nearly every Biblical doctrine is based on Genesis 1-11. And, the theme of creation and restoration are consistent from the first book, Genesis, to the last book, Revelation. Knowing how the Bible ties everything together helps to build a firm foundation for your faith!
START THIS STUDY ONLINE at Bible.org. Also available in print form.
---
Just want to study Genesis thoroughly? Check out Genesis: from Paradise to Patriarchs by Bob Deffinbaugh. I find his teaching to be exactly what I am wanting for thorough study of a passage.
BEGIN THIS STUDY ONLINE at Bible.org.
---
Dallas Theological Seminary offers a free Genesis course online. Genesis is a ten-week course taught by Dr. James Allman, DTS Professor of Old Testament Studies. This course will take you on a journey through the book of Genesis concentrating on the creation narrative and the patriarchs.
How to use this course for yourself or with a group:
Read the chapters covered by each lecture ahead of time.
Ask for the Holy Spirit to show you what He wants you to learn. Then, pay attention to anything that jumps out at you or is of interest to you.
Watch the video and add to your notes.
SIGN UP FOR DTS GENESIS COURSE
---
For answers to your science and history questions as you read through Genesis, check out these marvelous websites. Search for just about anything and find credible explanations and answers. Just click on the pictures below.
Enjoy your study of Genesis!