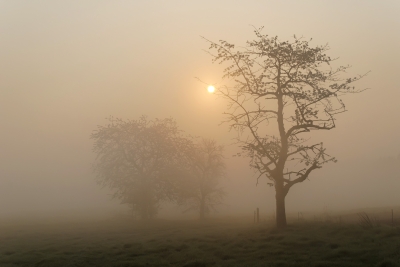 Job has been the book of study lately for a group of women in my community. The first day we started, my friend and I commiserated that we get a little anxious when Job's story comes up. Kind of like God is trying to prepare us for the doom to come.
We shrink from the prospect of suffering, even though we know there's purpose in it. We are like Christ sharing the fellowship of his suffering (Philippians 1:29). But it's still hard.
The story in Job chapters 1-2 gives me pause. Because honestly, there's a whole lot going on behind the scenes of the story being lived out on earth. If Job could hear the conversation between God and Satan, would it have made his suffering easier to bear?
I'm not so sure. If I knew the purpose behind my own suffering, would it be easier to bear?
A view toward eternity and fixing my eyes on Jesus both help some days. On hard days, I need eyes to see. "…We are not looking at what can be seen but at what cannot be seen. For what can be seen is temporary, but what cannot be seen is eternal." (2 Corinthians 4:18)
Eyes of faith to believe that God is good, even in a broken world.
I also found 2 Kings 6:15-17 to be encouraging. Elisha's servant sees the story on earth. An enemy army has formed to kill them. The odds are terrifying. Defeat seems imminent. Yet somehow Elisha seems unaffected by the situation at hand.
His servant asks, "Aren't you a little worried?" (My paraphrase.)
Elisha saw the circumstances through eyes of faith. Faith considers the supernatural, more than what is going on in the story on earth.
He asks God to give his servant eyes to see the story behind the curtain, behind the scenes. And God does.
What the servant sees staggers him. Horses and chariots of fire surrounding them. The good guys are, in fact, present. Help is present. Hope is present.
But it takes eyes of faith to see it.
When do I need this in my own life? I need it when the situation seems dire. When the diagnosis includes cancer. When divorce seems inevitable. When finances are stretched thin.
I need to look beyond the things that are seen to the things that are unseen. Romans 5:24-25 puts it this way: "For in hope we were saved. Now hope that is seen is not hope, because who hopes for what he sees? But if we hope for what we do not see, we eagerly wait for it with endurance."
God, gives us eyes of faith to see what we can't see. To experience your presence when we can't know what's going on behind the scenes. To believe that one day our faith will be sight. To know that you are good and you are God.
Where do you need eyes of faith today? Ask Him. Ask Him to help you see.

—
Image courtesy of dan at FreeDigitalPhotos.net