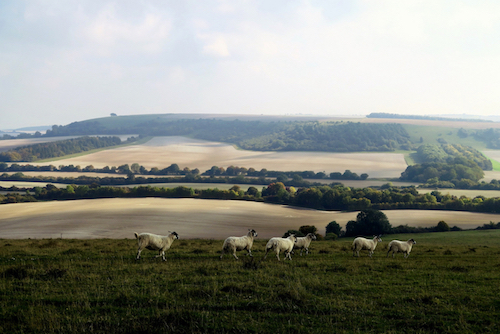 Accept the Pastoral Position God Has for You
The past few weeks have brought much discussion about the role of women in the church, seminaries, in ministry. To be honest, I found myself several times yelling at my computer screen for reasons I can only describe as temporary insanity. I huffed, not because of the discussions, but because of how nasty the people of God behaved. A bit ironic, isn't it?
Mostly I found it disheartening to read the attacks on those who shared their beliefs. If I could, I'd sit and have coffee (or tea) with all of them. I would pray with them and give thanks to God for the gift we have in thinking beyond our comfortableness. I do feel gratitude for those who push me to think outside of myself—those who encourage me, and continue to point me to Christ—whether I agree with them or not on all things related to gender roles.
Don't think I haven't wrestled with it all. I tend to leave it with God. He's in the business of transforming hearts and minds. I'm not. I know the church, Twitter, a blog post, and Facebook won't change the hearts of any.
Perhaps that is why I seldom write about hot topics that have made their way into a top social media hashtag. I tend to shrug my shoulders, and often I walk away from my computer, the cell phone, the notifications, and the Facebook posts that have more likes than the missionary who just welcomed a new member into the family of God.
God bless my missionary friend.
She reminds me of the pastoral role I have here at my job. Her work often quietly whispers that I don't need to argue about anything, but instead I need to ask myself daily if I have the mission, the vision Christ gave me in focus. Am I making disciples?
I've looked all over scripture, and I can't find anywhere where it says to argue for recognition or my place at the top. It also doesn't say anything about making sure others notice me. I do however know Christ gave me clear instructions before leaving earth. How about the way others treat me? It's clear. The Bible tells me in Matthew 5:10–11 and Luke 21:13–19.
Christ has instructed, "Go make disciples—you will be my witness" (Matt 28:19–20; Acts 1:8). Am I obeying? All I have to do is read my social media feeds to see if I'm sharing the gospel or building the body of Christ (Eph 4:10–13). Am I? Are you?
God has gifted his children in many creative ways. All different, all for his purpose. Paul instructs we should use whatever gift we have received to serve others, as faithful stewards of God's grace in its various forms. He goes on to write, "If anyone speaks, they should do so as one who speaks the very words of God. If anyone serves, they should do so with the strength God provides, so that in all things God may be praised through Jesus Christ. To him be the glory and the power for ever and ever. Amen" (1 Pet 4:10–11).
I don't know about you, but I get sidetracked by all the social media trending noise, and I stare dumbfounded at the written words of others. And for a moment, I disengage and only look at the person's statements. Not once do I consider that the writer has a heart for Jesus. What happened to stewarding God's grace?
The urgency to share my thoughts as if I have the power to save others from what I consider such foolishness clouds my judgment. Does the Holy Spirit need my help to set others straight?
Instead of allowing others to dig and wrestle, I look to "the experts" so I can share (post, tweet) the answers I feel most comfortable in others accepting. And then I get sassy. I stand ready to argue for a position I forgot God already gave me.
Contentment plays a huge role here. God has given all his children the obligation to engage in pastoral ministry (Rom 12:6-8 and Rom 15:14–19; 1 Thess 5:14–15 and 2 Thess 3:11–15 and Gal 6:1–10). So pastoring, shepherding, ministry, and serving occurs everywhere, in homes, in the places God has placed his people in. Oh, and what about the priesthood of all believers (Rom 1; 1 Pet 2:9; Rev 5:10)?
If God opens the door for any to teach at a seminary—then glory to God! If God blesses his people with children, raise those little disciples, shepherd them, and praise the Lord! If he makes it so someone can learn Hebrew or Greek in a seminary class full of sinful people, pastor one another. In an apartment drinking the best cup of coffee surrounded by friends? Yes! At a corporate job? Yes, there too. No matter where—pastor! Serve. Listen. And love well.
God's Word reminds me that I need to trust God will do as he's promised and he will give me the opportunities that he has planned for me to do in advance. Teaching, shepherding, and overseeing the church will come to all perhaps not as I (or you) want, but as God intended.
But instead of trusting God, I keep looking high at what others consider the highest-calling. Do I want to share the gospel or do I want the top-notch job at the church, at the seminary? More likes? Retweets? Am I trending? How many people have read my blog post? Who's in focus here?
Thanks be to God for those few—like my missionary friend—who remind me, "[Woman]…," they [say], "why do you stand here looking into the sky? This same Jesus, who has been taken from you into heaven, will come back."
I have work to do.
And so do you.
He's returning soon. Will we accept the pastoral position God has given us already? Are we living in anticipation of his return?
Let's make disciples. Let's live as his witnesses. Let's pastor and shepherd those on Twitter, Facebook, the neighbors, colleagues, with classmates, at home, at work, and with any who God puts in our lives.
"By this everyone will know that you are my disciples, if you love one another" (John 13:35).
Blogger's Note: If you disagree with me, it's okay. Instead of writing it in the comments, just pray for me. I need it.