Fall Pastels, Ugly Runway Models and Mako Fujimura on the Fight for Beauty
No woman I know wants to look unattractive. As the seasons change we're in the stores looking for styles and colors that make us feel good. For many of us that means finding clothes that are new and trendy. (Fall pastels!) Or comfortable. (yoga pants for millions who never yoga) Or even beautiful, although beautiful is more elusive.
Of all the places we might expect to find beauty, we've come to expect less and less of it at fashion shows. Or the pages of fashion mags. Watch the shows online or pick up a copy of Vogue magazine and I have rarely seen pictures of so many women who look like they absolutely do not feel good.
They look bored. Depressed. Starving. Androgynous. They look like Dr. House has diagnosed them, all of them, with the extremely rare condition of anhedonia– the inability to experience pleasure.
Of course, if I was wearing what they had to wear, I would probably feel, or not feel, the same way. What is going on?
Google "Why are models so … " and Google will suggest options like "ugly as sin?" or "thin and sulky?" The results will take you to articles and conversations attributin it to gay men who run the fashion industry, to designers who want to objectify women into living "hangars" whose looks or personalities will not detract from their clothes. To designers who want to make an artistic statement and tell a story about the corruption of culture,
Not so long ago these same designers wanted to feature beautiful models like Cindy Crawford, Claudia Schiffer or Gisele Bundchen, and prettier clothes. But especially in the last two years, as one former Vogue editor was quoted in The Guardian, designers prefer a "fit" model.
"The "fit" model begins the fashion process: designer outfits are created around a live, in-house skeleton. Few designers have a curvy or petite fit model. These collections are then sent to the runway, worn by tall, pin-thin models because that's the way the designer wants to see the clothes fall."
The editor admitted that there is a difference between "slim" and "scary skinny." And this "scary skinny" fashion image is contributing to the poor body image of millions of women. Many who fall into anorexia and bulimia are driven by the idea that they can only feel good if they look more like what they see on the runways and in the fashion mags.
The Vogue editor continued, "There will also be casting directors and stylists involved who have a vision of the type of woman they envisage wearing these clothes. For some bizarre reason, it seems they prefer her to be young, coltish, 6ft tall and built like a prepubescent boy."
Searching online, I couldn't come up with explanations for the "bizarre reasons" for an increasingly Holocaustic image of beauty. But the world of high fashion sees itself as much a part of the art community as the retail merchandising community.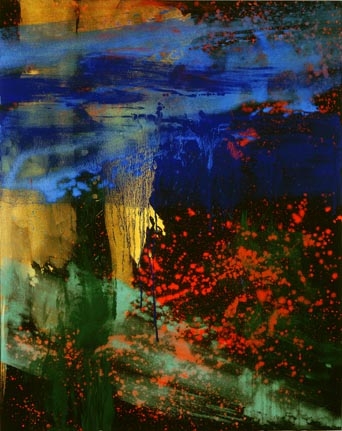 Looking to the art community for answers in this battle for beauty, the words of Christian artist Makoto Fujimura (The Tears of Christ) offer great insight:
"When I began to exhibit in New York City in the mid-90's "beauty" was a taboo, not to be spoken of in public. It signified cultural hegemony, imperialist power, the corruption of the past, or the cosmetic sheen of superficial contemporary culture. The art world still resists this word.
"The first time I spoke at Dillon Gallery in Soho [New York City], I quoted the sacred texts of Isaiah 51:2-3:
… To comfort all who mourn, and provide for those who grieve in Zion—
to bestow on them a crown of beauty instead of ashes,
the oil of joy instead of mourning,
and the garment of praise instead of despair.
"The more I experienced beauty, the more alienated I felt from it. It was only through my encounter of "seeing" Christ and his sacrifice in love for me, through the reading ofJerusalem, William Blake's last epic poem, that I saw the beauty of sacrifice in Christ."
"As a National Scholar graduate student in Japan, studying the art of Nihonga (painting with rare minerals like lapis, malachite, gold and silver) I wrestled with beauty revealed in front of me, created with my own hands."
"Jesus is the source of beauty."
"In mentioning beauty–let alone Christ–in a room filled with people in the art world, I knew that I was transgressing against what was culturally acceptable for them. But as his follower, I needed to acknowledge Christ's claims…I wanted to begin to reclaim beauty, and to frame it for our time as a gift given to us by the Creator.
"The next day, a critic who was in the audience called and surprised me by saying: "I have never heard anybody quote Isaiah in the art world and mean it with conviction. I was moved by what you have to say."
We worship a God of beauty. So it is no surprise that in todays culture, beauty is increasingly opposed, even in the heart of an industry created to enhance it. Yet the battle against beauty leaves such a hunger in its wake.
In his book Culture Care, Mako describes why we need beauty–all kinds of beauty–to flourish. I highly recommend it.
If you'd like a sample, I've interspersed quotes from Culture Care along with some favorite fall pictures from the past few years on my website here (scroll down). I hope they inspire you too and help you to seek and savor real beauty this fall.
Lael Arrington
Faith and Culture: Live wisely l Love well
www.laelarrington.com