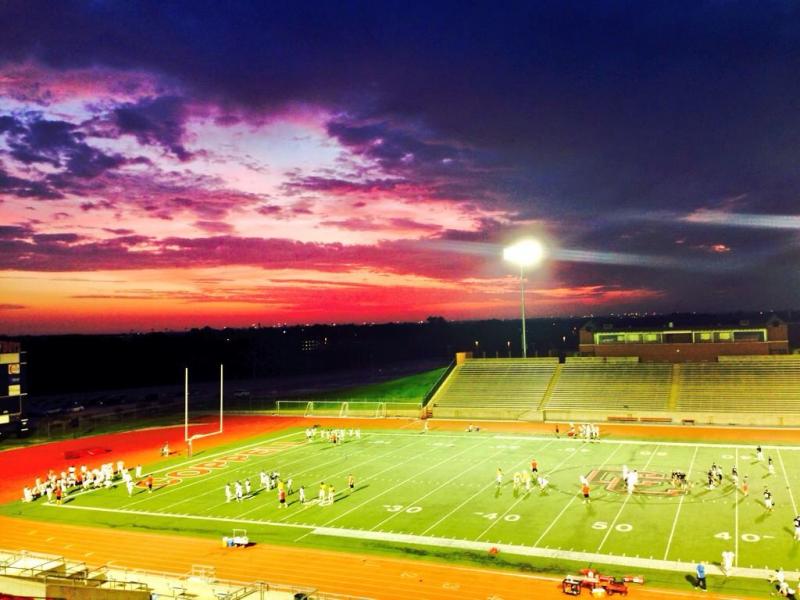 In our house fall is fraught with sweltering Texas temperatures and scads of sunscreen, the smell of leather and ringing of cowbells, bright stadium lights and cheers recited to the beat of the band. We're a football family, and fall is game time.
Before marrying my husband, a high school football coach, I had no clue about Texas football. If you're not from Texas, the game, fans, band, and tailgates can seem cultish. It's an obsession around these parts—and that's what makes it so wonderful.
There's something that fosters family when you spend Friday nights with the same cheering section over and over. It doesn't matter if the game is at home or two hours away. As the season progresses, you sweat, shiver, and layer out the elements together because you love someone standing on that big field.
When I stepped into the football family, I wasn't sure what to expect. My high school didn't have football. And my understanding of the game stopped at yard lines and first downs. But over time, my husband used salt shakers and kitchen chairs to teach me about linebackers and blitzes. I met other wives who explained formations and invited me to pre-game tailgates. My dad stood in the stands, explaining the calls like a color analyst. And I learned that football is really about family.
Amidst this chaotic season, I sense what Moses must have experienced in Exodus 17. Midway through the Israelites' wilderness wanderings they were forced to face the Amalekites. This fierce people group was a thorn to Israel throughout their history. And Exodus chronicles their first scrimmage.
Moses told Joshua to ready the troops for battle—a battle that wouldn't be won with brute strength and strategy but by a peculiar act of faith. While the warriors battled below, Moses stood atop a hill influencing the scene, "Whenever Moses held up his hand, Israel prevailed, and whenever he lowered his hand, Amalek prevailed. But Moses hands grew weary, so they took a stone and put it under him . . . while Aaron and Hur held up his hands" (Exodus 17:11–12).
I love the strangeness and symbolism of this battle. Moses upstretched hands symbolize faith for the fighting men below. Yet as the battle lags, his own arms tremble and sag. So Aaron and Hur step in with a seat and extra strength—one on each side, holding up weary arms.
What a picture of Christian community. Believers living out their faith propped up by fellow followers and friends.
After the hard-fought victory, Moses built an altar to the Lord calling it, "The Lord Is My Banner" (Exodus 17:15–16). His bold statement acknowledged that God gave the victory. And sometimes He uses unusual means to accomplish it.
In the heat of battle it's easy to forget that part. That's why we need tangible reminders of God. Sometimes they come in the form of rocks and warm hands, and sometimes they come as tuna sandwiches and shared blankets on a cold Friday night.
Amidst a season flecked with stresses and cheers, the stadium lights act as a banner, pointing me back to the One who surrounds and sustains in intensely ordinary ways. Tomorrow evening I'll step into the stands for our season opener, and the cheers of family and friends will remind me of this all over again.
As your family settles back into school or your calendar fills up with year-end work demands, where will you draw strength? Who will remind you that God is good?
As women it's so easy to hold—and sometimes so hard to be held up. But today let's live out our faith together, giving strength and drawing it from someone's warm hand.
*Photo courtesy of Rachel Koury