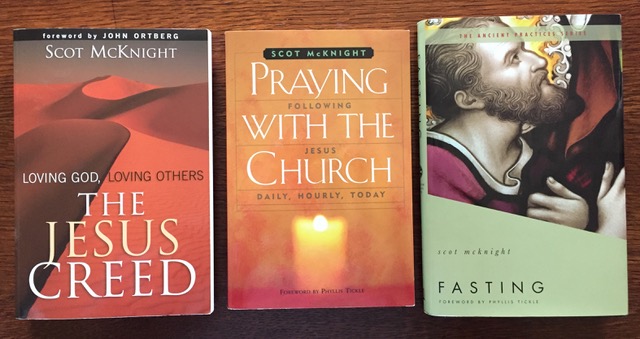 A good friend emailed me commenting on how much she is looking forward to the summer break. I do want to slow down this summer and catch my breath. Maybe even read a little in some of the books I have under my bed!
Oh, how delicious – having a space of time to read; to let your soul recover from living in the fast lane and slow down to the speed of life. I, like my friend, am the stacker reader type. Books are stacked on most visible surfaces in my home. While I have more books waiting to be read on shelves that shout – no more room here – I am still always interested in books that my friends recommend and authors they say one should pay attention to.
So, here you go. I have three books I want to mention; all three by an author you definitely need to know about if you don't already know of him. Maybe these suggestions will jump start your summer reading. Summer is coming soon… get ready.
The author, Scot McKnight makes difficult concepts reachable. His serious scholarship as the Karl A. Olsson Professor in Religious studies at North Park University allows him to tackle historical topics from the first century on with a facility that grabs your interest and implants key biblical principles in your brain. Most of all, his writing invites you, in the middle of your story, into a spiritually forming relationship with Jesus Christ.
In the first book, The Jesus Creed, Loving God and Loving Others McKnight focuses on Jesus's response to the law expert who asked where to begin in spiritual formation. Jesus answered by giving the Jesus Creed, which defines spiritual formation: "Hear, O Israel, the Lord our God is one. Love the Lord your God with all your heart, with all your soul, with all your mind, and with all your strength. The second is this: Love your neighbor as yourself. There is no commandment greater that these"(Mark 12:28-33). McKnight spends the rest of the book unpacking this creed with an enticing simplicity that anchors your soul in what really matters to God.
Reading The Jesus Creed offers an opportunity to enter the world of Jesus and shrink the gap between yourself and Jesus as His world and the people in it become alive. You will discover that the similarity of human struggle resonates with your own story. You will also notice the gap narrow between the person you are right now and the person God created you to be. This book is an invitation and a resource to place your life in His hands and follow His lead. This is a book I would like to read again and again.
In his book, Praying with the Church, McKnight provides an inspiring guide to the prayer and liturgical practices of the early church widening our understanding of the rich resources of ancient times. He invites readers of all Christian backgrounds to the heart of Jesus's own practice of prayer as well as the intentions of the first disciples, by returning to the ancient rhythms of daily prayer.
In his book Fasting, McKnight comments that "fasting is the body talking what the Spirit yearns, what the soul longs for and what the mind knows to be true." While I had a semblance of understanding about the place of fasting in the scriptures and the value of it for spiritual growth, I had not understood the essence of this practice until reading Fasting. McKnight advocates a "whole body spirituality" in which fasting plays a central role. He documents from the scriptures that fasting is a spiritual response to a sacred moment and demonstrates a whole person's need and hunger for the presence of God.
Consider these books and let me know if you try one or any of them. Happy Reading.
Would you also consider, since tomorrow in the US is the National Day of prayer, joining others in prayer for our country
http://www.nationaldayofprayer.org/national-prayer and prayer for the unreached https://dayfortheunreached.org/?
McKnight, Scot. Fasting. Ancient Practices Series. Nashville: Thomas Nelson, 2009. 180 pages.
_____________The Jesus Creed, Loving God and Loving Others. Brewster, MA: Paraclete Press, 2005. 334 pages.
_____________ Praying with the Church: Following Jesus Daily, Hourly,Today. Brewster, MA: Paraclete Press, 2006. 176 pages.
A portion of this blog was originally published May 23, 2012