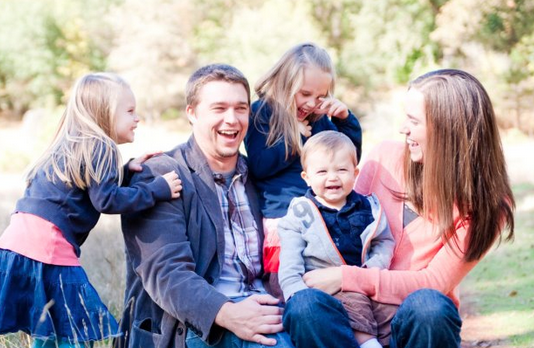 I'm Back Writing and Excited
I am thankful for the invitation to continue writing for Bible.org's Children's ministry blog, Heartprints, and to encourage the rise of men and women to be passionate for the gospel in ministry to children! As you read, I hope you notice an active, planned involvement to kids personally – not just "ministry." This is not a job or a gift – it's a calling and command from God to any Christian – especially Christian men and pastors.
We have grown numerically in our family, bringing on a 16 year old exchange student from Thailand for the last year and a half, and she looks to be forever apart of our family. She is 16 years old and allowing the gospel to take root in her life. What a joy!
We have also added a new baby boy, now three months old, named Abraham. So now, including our Thai student, we have five kids. Three girls (15, 7, and 5 year old) and two boys (2 and 3 months old). Names are Freya, Ellie, Lydia, Hudson, and now Abraham. We might be crazy but we love kids.
It's a different love than for puppies, we recognize they grow up, and we are just as excited to be apart of their older years as we have been in their younger years. We chose six names on our honeymoon a mere 8 years ago – three girls and three boys. We have had a plan from the beginning but always held in an open hand. We recognize that no one is ever promised children or children to live beyond their young years.
My wife and I are thankful and would love to meet our goal of six kids as we walk in this life with a healthy fear of the Lord. Therefore, we must be wise planners of parenting that include thought to time, finances, care, attention, instruction, and so on. We live with old hearts in young bodies as we both soon turn 31.
I am a husband and a daddy, balancing life on a foundation (not a fulcrum) of the gospel for which I yearn that all my kids, along with my city of Sacramento, allow the gospel to take strong root in their hearts (Mark 4:8-9, 20).
I am a passionate fellow, with a built in megaphone as some have said, that is ready, willing, learning, and longing to preach from the hilltops about the good news of Jesus. This blog is a hilltop, and I write with a passion out of the gospel and hope that these blog posts rise from the computer screen grave as a megaphone to eyes calling people to believe and even believe differently – especially about ministry to children.
Children's sinful but innocent eyes and ears are on the adults around or absent from them. Let us adults be pierced in our soul with the two edged sword of the word (Hebrews 4:12-16), especially pastors – men assumed to be one's who fear the same Lord who loves children.
To the men, again, especially the pastors: Be not Adam hiding away like prideful cowards involved in other matters of life while the temptations of Satan and sin come snatching women and children away just as sin and Satan has first snatched you. Hide in the gospel and stand firm, immovable, and always abounding in the work of the Lord – the great lover of children (1 Corinthians 15:58).
I long to stand on the battle field of this earth, shoulder-to-shoulder, with men convicted of the gospel, and intensely involved in the good fight of faith. God calls us to lead children with conviction – true and truthful conviction that affects them because God first affected us (1 John 4:7-10).
Believe, stand and fight.