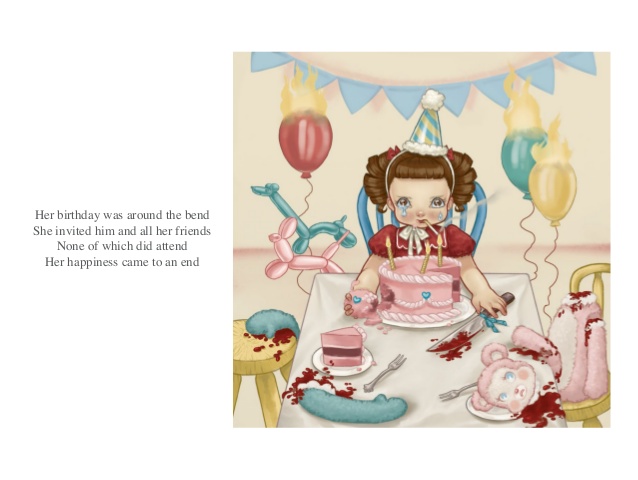 Melanie Martinez Song Lyrics Destructive to Children
Who's Afraid of the Big Bad Wolf? Protecting our Children from Harmful Lyrics and Videos
Satan is a sly and cunning adversary seeking those he can deceive and destroy. He is able to camouflage himself in ways that are appealing not only to us as adults, but to our children as well.
What are our children seeing and listening to on their computers and phones? What about when they are with their friends, or at school? I recently discovered an artist very popular with young, elementary age girls. Her YouTube music videos are extremely dark and confusing. What impact are they having on these little, impressionable minds, as they try to absorb what they are hearing and seeing?
Melanie Martinez is a very gifted music artist, but her lyrics and videos would suggest that she needs help and she certainly needs to know Christ. I am not trying to single her out, but her music, videos and song titles target children. Her soundtrack cover is even designed to like a children's book, complete with illustrations.
In her videos, she dresses up as a child or baby for every video and sings the lyrics to seemingly harmless song titles like, Mrs. Potato Head, Alphabet Boy, Cry Baby and Sippy Cup. However, they are anything but harmless. http://store.melaniemartinezmusic.com/cry-baby-cd.html
Each video is extremely dark and disturbing depicting life in a terribly dysfunctional family. In the music video, "Dollhouse," Melanie sings the following lyrics, "Hey girl, open the walls, play with your dolls. We'll be a perfect family. When you walk away, it's when we really play. You don't hear me when I say, Mom, please wake up, Dad's with a slut, and your son is smoking cannabis. No one ever listens. This wallpaper glistens. Places, places, get in your places, throw on your dress and put on your doll faces. Everyone thinks that we're perfect, please don't let them look through the curtains." During the video, Melanie's "mother" passes out on the couch drunk, and her "father" comes home with kisses on his neck from another woman, while her "brother" zones out smoking cannabis, and she sings while in the kitchen pretending to cut up a very live rabbit.
In another song, (Melanie) is given an ice cream, by a man in a wolf's mask, driving an ice-cream truck. She passes out from something he put in her ice cream and wakes to find she has been kidnapped. She later escapes her kidnapper, by poisoning him (the wolf) with milk and cookies.
The lyrics follow as "One, two, Melatonin is coming for you. Three, four, baby, won't you lock the door? Five, six, I'm done with it. Seven, eight, it's getting late, so close your eyes, sleep the days. Hush, little baby, drink your spoiled milk. I'm "#@" crazy, need my prescription filled. Do you like my cookies They're made just for you. A little bit of sugar, but lots of poison, too. Ashes, ashes, time to go down. Ooh, honey do you want me now? Can't take it anymore, need to put you to bed. Sing you a lullaby where you die at the end. Nine, ten, never want to see you again, eleven, twelve, I pull off black so well."
In the video Mrs. Potato Head, a woman is shown undergoing plastic surgery. The surgeon, a man in a creepy rabbit mask, cuts the skin off her face with scissors, while stuffing tissues into the open wounds on her breasts, as if she is getting implants. The lyrics for this song are, "It's such a waste when little girls grow into their mother's face. But, little girls are learning how to cut and paste and pucker up their lips until they suffocate. Kids forever kids forever. Baby soft skin turns into leather. Don't be dramatic it's only some plastic. No one will love you if you're unattractive… sexual, hey girl if you wanna feel sexual, you can always call up a professional. They stick pins in you like a vegetable."
The music is catchy and the way Martinez dresses is alluring to young girls. If you google any of her songs, or any of the illustrations used in the soundtracks book, you will find, many pictures of girls, either dressing, singing, drawing or acting like her. But be aware, the content is not child friendly.
Very strong language, lyrics and videos are combined and packaged to look innocent; but they are disturbing and every bit adult in nature.
Other videos show a boy being electrocuted by a toaster Melanie throws into his bathwater. Another video shows an enraged wife stabbing to death her cheating husband and his mistress. Still another, video, shows a mother who chloroforms her daughter, ties her to the bed and has her drink something out of a sippy cup, to these lyrics, "Blood still stains when the sheets are washed. Sex don't sleep when the lights are off. Kids are still depressed when you dress them up, and syrup is still syrup in a sippy cup. He's still dead when you're done with the bottle. Of course it's a corpse that you keep in the cradle. Kids are still depressed when you dress them up. Syrup is still syrup in a sippy cup."
Little girls are emulating these videos and this artist. The gravity of the content combined with the extremely sexual and strong language is over the top and completely inappropriate.
What can you do?
1. Monitor your child's computer and phone.
2. Know your child's friends and what they are allowed to do, watch and listen too. Talk to your children and explain why not all content is good for us to listen to or view.
3. Talk to the school and see what their guidelines are regarding cell phones and usage while at school. Things are shared at school, even when teachers are vigilant about protecting our children.
4. Pray for God's protection over your child's heart and mind.
5. Don't ever quit fighting to keep evil at bay.
Philippians 4:8New International Version (NIV)
Finally, brothers and sisters, whatever is true, whatever is noble, whatever is right, whatever is pure, whatever is lovely, whatever is admirable—if anything is excellent or praiseworthy—think about such things.