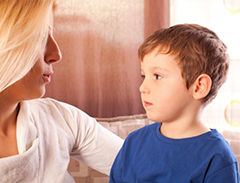 Parenting: What to Do When You Lose Your Cool
I used to be terrified that I was ruining my kids when I didn't model the right Christ-like behavior. Many times, this came in the form of running short on patience or losing my cool with my very strong-willed child. Later I would agonize over what I said or did, and how I didn't respond in grace. Then this question came to me…
If God only used perfect people to be parents, who would He use?
The answer is obvious. There are none. We all fall short (Romans 3:23). We will lose our temper, react in fear to a certain situation, or say an unkind word. And our kids will see it. There are just too many moments in a 24-hour day to respond to each one in just the right way.
Being perfect is not doable. So here's what you can do: When you blow it, first take it to the Lord – confess and repent. Then go to your kids. Apologize and explain God's truths to them. Even explain what you should have done. One time, I actually drove to my son's school and pulled him out of class to apologize for my short-temper that morning. I trust that he will remember that apology much longer than the offense that caused it.
Sanctification is a lifelong process. You are a work in progress (Philippians 3:12). Being honest about this is a priceless gift to give your kids. And so is humility. Never let your pride stand in the way of forgiveness and reconciliation. That would be a victory for the enemy (James 3:14-15).
Let's face it: your kids aren't perfect either. One day, they will be the parent staring into the stubborn face of a toddler who refuses to get into his car seat! And that child of yours will have learned from your mistakes. They may handle it better, or they may simply have learned that God has grace for that. In the end, we are equipping our kids to be the best parents they can be when we are transparent in our successes–and failures–as a parent.
And from his fullness we have all received, grace upon grace. For the law was given through Moses; grace and truth came through Jesus Christ. – John 1:16-17