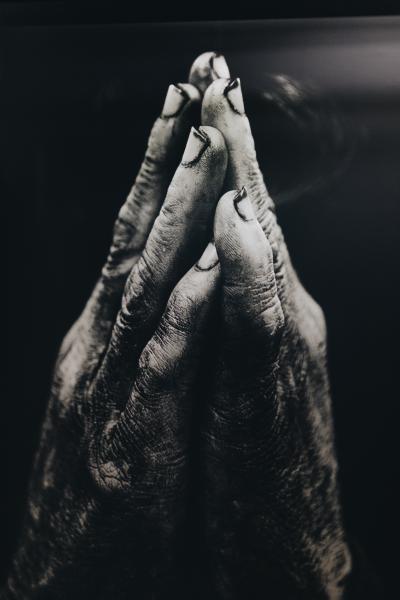 I have a confession. Sometimes, I pray ugly prayers. You know those type of prayers that just lay every emotion out before the Lord? They aren't pretty. They aren't eloquent. They are certainly not focused on God's attributes. They are focused on me and my need. They are real and ugly. I admit that more times than not, I pray these types of prayers.
I don't know your situation, but I have days that are difficult. I have pain that doesn't let up. I have problems that seem to never resolve. I have emotional tears in my heart that feel as real today as they did when they happened. I have dreams and desires that go unrealized.Why?
Because I am human and as said human, I am always falling short.
I truly want to believe God can and will heal, supply, fulfill. But there are days when my need for healing, for resolution, for help, companionship, relief (you name it) outweigh what I know. My feelings get the best of me and I can't get my footing. In other words, I am relying on myself and my feelings rather than relying on God to fill me. You feel me?
Do you ever have those days? And If we are honest, there are times when illnesses or addictions or certain situations are so awful that healing manifests itself in heaven. I do not understand God. I do not understand His plan at times. I do not understand His workings. I think in my finite mind that I have the answers that the infinite God needs. I think in my limited power and wisdom that I hold the answers to what I need. All too frequently I find myself telling the God of the universe exactly what it is that I think I need and just how and when He should give it to me, which is usually NOW!
I think if I just…. had this, was that, achieved this, conquered that…then I would be fulfilled and happy, when the truth is…the one and only way to limitless abundance in life is to fully trust in the Lord. Why is that so hard? After all, He made us. He knows us better than our closest relative or friend. He knows exactly what we need.
And yet, when I am disheartened, worn out, hurting, lonely … angry … sad, it is hard to trust. But that is when we need to the most. God tells us in Psalm 103:8, The Lord is compassionate and gracious, slow to anger, and abounding in loving kindness.
Again, in Zephaniah 3:17, we are told, The Lord your God is with you, the Mighty Warrior who saves. He will take great delight in you; in his love he will no longer rebuke you but will rejoice over you with singing.
In 1 Peter 5: 6-7 the Bible tells us, Humble yourselves, therefore, under God's mighty hand, that he may lift you up in due time. Cast all your anxiety on him because he cares for you.
So, the next time you feel like praying those ugly prayers, remember that God rejoices over you with singing. He wants you to cast your anxiety on Him, because He cares for you. He is a Mighty Warrior who saves you. He delights in you. He lifts you up. He is compassionate, kind, gracious and slow to anger.
And above all, remember that nothing separates us from Him. Romans 8: 37-39 says, No, in all these things we are more than conquerors through him who loved us. For I am convinced that neither death nor life, neither angels nor demons, neither the present nor the future, nor any powers, neither height nor depth, nor anything else in all creation, will be able to separate us from the love of God that is in Christ Jesus our Lord.