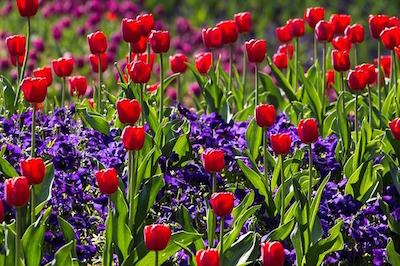 5 Ways to Spring Into Trusting God More
Some days I don't want to get out of bed.
Last week I woke up excited about life. Today? Not so much. When stuff doesn't pan out the way I want, my outlook deteriorates quickly. Every unexpected turn brings new challenges, and then I buckle under pressure.
I have known this about myself. My closest friends have often challenged me to have more faith especially when things don't go my way. My husband does his best to encourage me. But as a stubborn woman, I want things to happen my way and in my timing. I tend to cling to me as opposed to Him.
So here I sit—on my bed, writing my thoughts, paralyzed. My faith has left me. I feel nothing but sorrow. Instead of having a screaming match with God, I whisper to Him, Heavenly Father, I don't know how to move forward. Help me.
And then this happens. Instead of relinquishing control, I get into a battle with God. Okay so let's compromise Lord, I'll let go of this if you make this happen. I've been faithful, and it should count for something. Fix this mess Lord, please make it go my way.
Eventually, my wheeling and dealing with God ends and I soon embrace frustration. I decide God must love other people more since they seem to get everything they want. He must have other people on His mind because He seems unconcerned with my future.
Yes, all lies of Satan. I know. I know. I know.
I wish, in the midst of every struggle, my first response would spring me into trusting God more. I want to accept His grace. Choose patience—have a Christ-like attitude. I so want to savor the sweetness of God's sustaining grace and never question His ways. But I don't. I'm not there. Not yet.
So I pray, and let it all go. I repent and give it to God. I stop talking, and I listen. And I hear all the sweet reminders of what I need to do when things don't go my way.
Run to His Word and let go of my own. How many times do I have to learn this lesson? Even when I don't have a particular scripture in mind, God speaks to me, whispers to me through Scripture. He shouts out His promises. He shows me His grace. I learn to lament, sing praises, voice my frustrations and express my emotions.
Remember God loves me unconditionally, passionately and relentlessly. The cross should remind me of His sacrificial and everlasting love. Jesus is always for me, and nothing can separate me from His love. He stays close even in my darkest days—in my sufferings—in my joys. God knows my future and knows things I can't even voice. He calls me friend.
Stay in relationship with God. I need God's guidance, His perspective, His Word. What do I know? He knows me better than anyone. After all, He designed me. He hardwired me this way. Knowing God wants the best for me should spur me towards having an encounter with the living God. I can pour out my heart to Him, and He'll meet me in all circumstances. Instead of turning away from God to stew in my anger, I need to run to Him.
Focus on heavenly things. I shouldn't get too attached to the things of this world for they will soon pass away. In a blink of an eye, it will all end, and we will experience real life. God will make everything new. No more tears, death, pain or crying in heaven.
Aim to glorify God always. Glorifying means feeling and thinking and acting in ways that reflect his greatness so others can see His work. My life should give evidence of all His attributes.
Some days I don't want to get out of bed.
When I sense God's peace, I want to revel in it for as long as I can. For He holds me through this time, as He has before, patiently bearing my need for control, lovingly reminding me His ways are not like mine—they're better.
Indeed, my plans are not like your plans, and my deeds are not like your deeds, for just as the sky is higher than the earth, so my deeds are superior to your deeds and my plans superior to your plans (Isaiah 55:8–9).