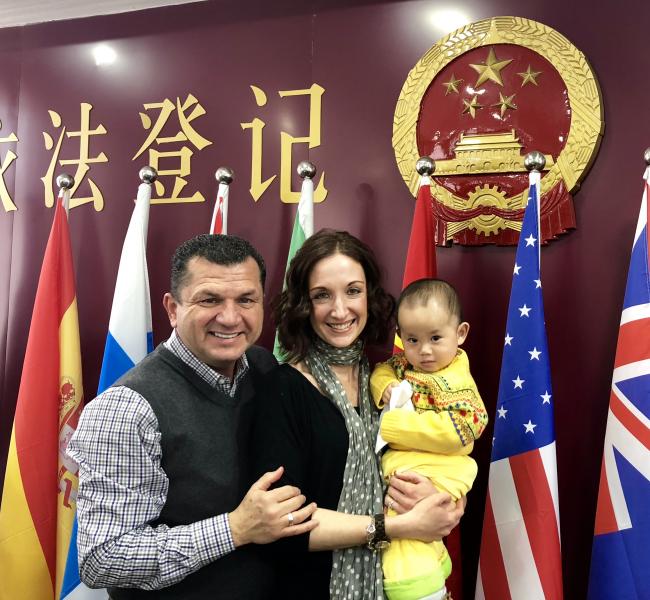 All major life decisions should be made on a beach in Mexico.
It was November 2015 and my husband and I finally had a few days alone after attending a family wedding. Unplugged from ministry, work, and everything else that competes for our time, we discussed our plans for family. I had finished seminary the year prior, he was partway through his doctoral degree, and we'd been married for four years. The timing seemed perfect.
Neither of us, though, were what we would call, "spring chickens." Having married later in life we were both over forty years old and, at that point, unsure of our options. But we talked and prayed and with the hot, Mazatlan sun and cool, Pacific breeze on our faces, we made a decision. We would love to have one of each—one biological child and one adopted child—if God allowed.
Why Adopt?
We get this question often. Unaware of our Mexican beach decision, most people assume we decided to adopt because we do not have biological children. While it is true that we were unable to have a biological child, (read more of our infertility journey here) it was not our reason for pursuing adoption.
Adoption was never our Plan B. It was always Plan A.
Why adopt? Simple, we want to create a legacy. My mother was adopted. Several of our close friends were adopted. We have witnessed and experienced firsthand the impact on their lives due to their godly parents. First World versus Third World luxuries aside, I know about Jesus because my grandparents told my mother (and my father) and they in turn, told my brother and me. And in turn, my brother and his wife have taught their children about Jesus, and the spiritual family tree continues.
Too often we think of family legacy as that of flesh and blood. But the New Testament writers did not see it that way.
In my blog post titled, Honoring Spiritual Mothers, I explain how Priscilla is one biblical example of a spiritual mom. She and her husband, Aquila, took what they learned from the Apostle Paul and taught Apollos. Apollos then went on to be of great assistance to other believers. The spiritual family tree continued to grow because of Priscilla and Aquila's spiritual parenthood.
No, Apollos was not of their flesh and blood. But he was their son in the faith.
What About You?
Perhaps God has called you to earthly adoption, perhaps not. But if not, then what does adoption have to do with you? Why am I writing this blog post?
While earthly adoption is not an exact parallel to our heavenly adoption, it does pull back a corner of the veil giving us a glimpse of the love of God.
It was in the garden of Eden that everything went awry (Gen. 3). Hostility replaced peace. Heartbreak replaced happiness. And ever since, we've struggled to find our identity and our legacy in something greater. More often than not we mess it up and look for our purpose in the wrong things and in the wrong ways, eventually finding creative ways to cope in this fallen world.
In a perfect world our son would never have been an orphan. He would still be with his birth family in his birth country and speaking his birth language. But the heartbreak of Eden affects us all—including you—thus the need for adoption, both earthly and heavenly.
Are you experiencing heartbreak and hostility? Do you long for peace? In what or in whom do you find your identity? Just like our adoption plan was not Plan B, neither is yours.
I wouldn't wait for a beach in Mexico to make your decision about your heavenly adoption. In your backyard, in a church pew, on your living room floor, in your parked car…there is not one, perfect place. But there is a perfect decision and it is the decision that will affect your family tree and legacy forever.
God has promised, "I will not abandon you as orphans, I will come to you." (John 14:18) Go ahead, run to him. He is waiting and he's already paid the cost.
You've always been a part of his Plan A.