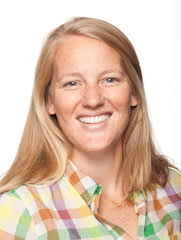 An Interview with Theologian Nika Spaulding: Instinctive Theology
Today I'm happy to have as my guest Allie Mock, who talked with theologian Nika Spaulding about the need to have our theology deeply ingrained in us:
Without even thinking about it, Nika Saulding instinctively jumped up and chased the man down the street, vaulting over chairs and pushing aside tables. She could see her laptop tucked under the thief's arm. Her legs burned as she put on a burst of speed. Ahead of her, the thief veered off the sidewalk and straight into a getaway car. Nika watched, helpless, as the car skidded away, her computer safe inside.
Replacing her laptop, though annoying and expensive, wasn't Nika's first concern. More valuable than money, her computer contained the notes she needed to preach the next day. Nika sighed and went back into the coffee shop to start afresh.
Today, several years later, Nika finds herself at a coffee shop once more. With her blonde hair pulled back in a low ponytail and cowgirl boots poking out from underneath her jeans,
Nika shatters the stereotypical perception of a theologian. And she likes it that way. Nika spends her days convincing ordinary people that theology belongs to them too. She teaches a new type of class, "Theology: Automatic for the People," at a church plant in South Dallas. Her goal? To embed theology so deeply into her congregation it becomes as instinctive as chasing after a laptop.
Nika wants her congregation to grasp three essential truths:
● God is good and does good.
● God loves me no matter what.
● God is pleased with me.
And she knows that learning theology one time doesn't suffice. Like an athlete developing muscle memory, unchanging truths need to be applied. Nika encourages those in her congregation to nourish their beliefs—theological and otherwise—in creative ways. She does so herself by listening to podcasts, studying the Bible, and attending University of Oklahoma football games. Reinforcing our beliefs about God, she says, helps us practice good theology during difficult circumstances.
We need strong theological reflexes when tragedy strikes. Nika observed, "We don't get to decide what we believe about God on the eighth floor of Children's Medical Hospital. In that gut-check, knee-jerk moment, when the buzzing and the whizzing of your kid sitting there getting his third round of chemo fills your ears, when your mind cannot dispassionately reason, if you don't already believe God is good, it is hard to walk out of there thinking that he is."
Nika experienced gut-check, knee-jerk moments this summer. After six years at her church, she felt called to leave her position as women's director at a Dallas mega-church. The transition left her tired and empty. A fun night out with friends or a long workout failed to lift her mood. She had trouble thinking rationally. She explained, "Unable to sleep and vulnerable, I couldn't control my dreams. I needed rest. I felt angry and bitter, and I couldn't wish the emotions away. I needed to work through them." Healing didn't arrive overnight, but Nika's theology kept her anchored through storms of emotion and change.
Church leaders and lay people alike need a theological framework through which to experience the world. As Nika said, "If we don't think well about God, we commit idolatry,
because we don't worship the true God. We must be careful of whatever we create about God in our own head."We need truths about God ingrained to our very core. We need habits to cultivate and cling to these truths during good times and bad. We need a good theology, automatic for the people.
Allie Mock is a student at Dallas Theological Seminary