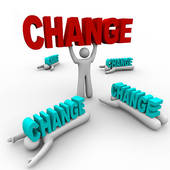 An Unchanging God in an Ever-Changing World
This past Sunday, I heard the best sermon I have ever heard on the importance of placing our faith in the character of God. If you would like to hear the sermon, go to http://www.hillsdalebiblechurch.org/sermons . (You might want to wait a few days since it may not be posted yet; he just preached it yesterday.)
After meditating on it I came to realize what a game changer it can be in our lives and in the lives of our children. We need to quit asking the questions the world asks and start asking the questions of life in a more Biblical way.
Pastor Bob helped me realize that, typically, the world looks at circumstances and ask "How can God be good and let this happen?" He pointed out that with a Christian world view, believing that God is sovereign, good, and unchangeable, we are better served asking, "Since God is good, sovereign, and unchangeable, how can I see this circumstance as good?" Wow!!! For me, this was an eye opener. I just forget that trying to understand God by evaluating my circumstances, I am dismissing the truths God teaches us about Himself and judging Him rather than the circumstances. How subtle Satan is to seek to malign God's character and weaken our faith.
From the Garden till the end of time described in the book of Revelation, God's enemy, Satan, is seeking to convince humans that our creator is not good. Change is one of those places where we become the most vulnerable. Little everyday changes wear on us. Big life changers like bad health, the death of a loved one, or even a lost job, are breeding grounds for doubt. The lies of the enemy feed those doubts and cause them to grow.
We are told to put on the armor of God in Ephesians 6. We are not told to fight. We are told to stand. We are told to pray. How can we pray without faith in the God to whom we pray? How can we stand firm if our feet are sinking in the mire of doubting God's goodness?
God gives us His Word to help us stand firm and pray with strength against the enemy. That firm faith and powerful prayer life are built upon the truths of God's Word. Faith is, after all, taking God at His Word and standing upon it.
When life changes knock us down will we let them hold us to the ground as we wrestle with deciding if God can really be good and let this happen to us? We have a choice. If we truly believe that the Word of God is the infallible truth that God has revealed by His Spirit to us, then we don't need to wrestle in the mud with change. We can lift it up through the power of prayer, stand firm dressed in the armor of God and having done all to stand we will stand firm, holding change up as a banner of love.
Change comes to us all. We don't' get to choose when it will come or if it will come. We do get to choose what we believe when it comes. Don't let the enemy rob you or your children of the inheritance that we have in Christ. We have the blessed assurance of God's Word:
Romans 8:28 (NET BIBLE) "And we know that allthingsworktogether*for good for those who love God, who are called according to his purpose"
Philippians 4:19 (NET BIBLE) "And my God will supply your every need*according to his glorious riches in Christ Jesus."
1 Corinthians 10:13 (NET BIBLE) "No trial has overtaken you that is not faced by others. And God is faithful*: He will not let you be tried beyond what you are able to bear, but with the trial will also provide a way out so that you may be able to endure it."
*emphasis mine