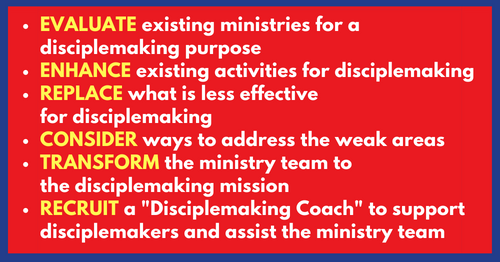 Disciplemaking Focus for Women's Ministry
Has your ministry team been event-driven with one person overseeing Bible studies, another the retreat, & another the Christmas brunch? Does your current women's ministry need to have more structure and purpose to what you organize and fund? Do you see the same women involved in your ministry with rarely a new face? If you answered yes to any (or all) of those questions, it is a good time to…enhance your women's ministry for disciplemaking.
What Is Disciplemaking?
The terms "discipleship" and "disciplemaking" often get confused.
Discipleship typically refers to the normal process for Christians to grow in their faith through Bible studies, prayer, worship, & small groups. It usually focuses on individual spiritual growth.
Disciplemaking goes a step further than typical discipleship. Disciplemaking includes seeing people trust in Christ and grow in their faith. It also includes training Christians to reach new people for Christ and help new believers grow in their faith so those can then reach their own peers for Christ. Disciplemaking makes disciples who make more disciples. It is others-focused. Focused is a key word in a disciplemaking ministry…
"An effective disciplemaking ministry is not necessarily a big or busy ministry but one that is regularly reaching new people for Christ, building them up in the faith, and training them to reach their peers for Christ. The local church is the best venue for disciplemaking to take place." (Sonlife Ministries, Growing Healthy Women in Ministry)
The disciplemaking process consists primarily of these "steps":
Connect (reach those who need to know Jesus whether unsaved or unchurched)
Establish (build up the young believers in the truths of the faith so they become mature disciples of Jesus)
Launch (prepare those growing disciples to reach the lost (CONNECT) and build up believers (ESTABLISH)
What Would the Strategy to Transition Our Ministry to Focus on Disciplemaking Include?
Download the Transition to a Disciplemaking-Focused Ministry Booklet which includes the following 6 steps in detail.
#1. EVALUATE existing ministries for a disciplemaking purpose
To evaluate existing ministries for purpose and effectiveness in disciplemaking, first list what you offer to women, whether ongoing (weekly/monthly) or occasional (once a year), under the category you would consider the primary purpose of each activity. Include any leader training. If you are unsure about an activity's purpose, mark it as "Unclear Disciplemaking Purpose."
#2. ENHANCE existing activities for disciplemaking
Explore ways to enhance existing activities to make them more effective for disciplemaking. This might include making some ministries more receptive for new people or adding a "beginners' group" to your existing BIble studies. Lots of creative ways to do this.
#3. REPLACE those activities less effective for disciplemaking
Consider how to change or stop and replace those activities that do not have a disciplemaking purpose or have become less effective. Caution: move slowly with your "Operation Kaboom." Sometimes those can be moved to another church ministry or released to an individual to continue doing it apart from women's ministry. End it with celebration and appreciation.
#4. CONSIDER new ways to address the weak areas
Three general weak areas to consider in a church ministry might include:
The lack of preparedness to befriend and share one's faith with unchurched women
The disconnected: Who is left out of your current ministry?
The immediate neighbors: How to reach the women in the neighborhoods closest to the church
#5. TRANSFORM the team to the disciplemaking mission
Match the leadership team members to the process of disciplemaking (Engage, Establish, Equip) as a way of staying balanced. By transforming your leadership team to the disciplemaking mission, you can help the women of your church move away from dependence on traditional event-driven ministries and toward a lifestyle of making disciples who make more disciples. The local church is the best venue for disciplemaking to begin. I'll talk about this more in a future blog.
#6. RECRUIT a Disciplemaking Coach to support discipling relationships
Recruit a "Disciplemaking Coach" to support women in one-to-one discipling relationships and assist your leadership team stay focused on your disciplemaking purpose. Ask Jesus to bring someone's name to mind you could ask.
Where Do We Get Started?
Check out the resources below to help you transition your women's ministry to become better focused on disciplemaking.
---
More Resources:
Stop The "It's My Ministry" Mentality 
Preparing Small Group Leaders for Disciplemaking
Stay Focused on Disciple-making—Resources for Women Leaders (download pdfs)