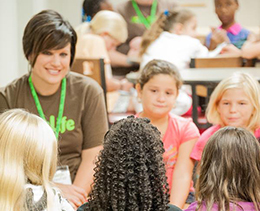 "What a child really wants to know is: does your face light up when they walk in the room?" – Toni Morrison
Our volunteers often joke that everything seems to go wrong on Wednesdays. Files get mysteriously deleted at work, cars run out of gas, and kids accidentally leave a much-needed textbook at school. Stress can run high as we rush to church. But if you have the honor of working with kids, do your best to leave your stress at the door. Prayer is the very best way to do this. Seriously. If you've had a rough day, take a quick time out. Sit in your car for a few extra minutes and ask God to clear your mind, fill you with joy so much that it overflows, and help you to see His kids the way He does.
As a Bible teacher or a small group leader, you have been given a precious opportunity. You are Christ's messenger. "So we are Christ's ambassadors; God is making His appeal through us." – 2 Corinthians 5:20a
The very next sentence begins, "We speak for Christ…" Let that sink in for a minute. For a period of time, ordained by God, you will be His mouthpiece. What will you say–and just as importantly, how will you say it? Will you be short and impatient, or will you speak with understanding as Jesus did? Will you listen intently for the answers to the questions you ask? Will kids leave your presence knowing that they matter to God?
Keep in mind that some of your kids (usually the ones who are giving you the hardest time) are dealing with incredibly difficult situations – bullying, divorce, foster care. We live in a fallen world with broken people. Sadly, our kids are not shielded from the cares that affect us all. Let's show them that there are Biblical solutions to the problems they face, and let's echo the Father's joy as He sings over each child (Zephaniah 3:17).
To read more from Jodi, click here.