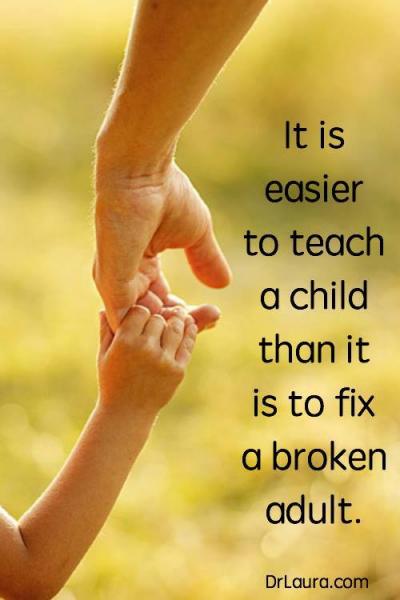 GOOD GRIEF: Seven Steps to Embracing Emotions- #6- Protect Who They Are by Teaching Them How to Say a Healthy Good-bye
Life is a continual series of gains and losses. Even at birth, as we gain entrance to this world, we lose the soothing sound of our mother's heartbeat. For months the rhythm of her heart has been the sound of safety and our first lullaby. In a very traumatic moment it is lost to the chaotic sound of our own first breath followed by our piercing cry for comfort lost.
With every gain in this life some measure of loss is experienced. The price for having is the surety of loss. Loss is inevitable but it doesn't have to be devastating. Staying in the womb is not a healthy option. Separation brings the opportunity for a new and wonderful relationship.
The innocence of childhood seems almost sacred to the adult burdened with the cares of this world. We want to protect our little ones from loss, from the pain of disappointment, and especially from the cruelty of death's sorrow. We can do more damage than good if we keep them from experiencing the natural opportunities that God presents for them to learn the joy of letting go or the sweet sorrow of saying good bye.
It is interesting how quickly a child learns two of humanity's most powerful words, "mine" and "no". They will spend the majority of their lives wielding these two words like swords. From the time their tiny hand learns to grab hold it will be in an effort to grasp and not let go of something they desperately want.
If we put a hedge of protection around them, allowing them to accumulate possessions without giving up or to lose loved ones without participating in the rites that take place when someone moves away or dies, we hinder their emotional growth. Without intending to we are pushing them to become more self-centered. The idea that life is about becoming the person that only they can be is lost. Life will not be qualitative, it will be quantitative as having and doing becomes entrenched as a part of their identity.
Healthy adults have learned to let go of stuff, to say goodbye to things and people in a healthy emotional manner. As we grow up we learn. We develop skills and ideologies. We have dreams. We make plans. We also develop various types of relationships. Letting go of lies and embracing truth is a learned skill. One that is developed as we let go of the lie that our life depends on having certain things or hinges on our relationships with certain people. Important? Maybe. Essential? No. This is what Jesus was teaching during His sermon on the mount, "Do not accumulate for yourselves treasures on earth, where moth and rust destroy and where thieves break in and steal. But accumulate for yourselves treasures in heaven, where moth and rust do not destroy, and thieves do not break in and steal. For where your treasure is, there your heart will be also. Matthew 6:19-21
With every loss of thing or person brings some degree of change. I highly recommend reading and working through the ideas in this great little book, Who Moved My Cheese. It can be a great spring board that will produce many good healthy conversations for your family or classroom about loss, emotions, and truth.
http://www.amazon.com/WHO-MOVED-MY-CHEESE-Kids/dp/0399240160