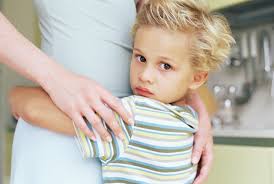 How to Help Your Anxious Child
I remember driving my son to kindergarten and him crying the entire way because he did not want to leave me. When we got to the school, I would have to park because he refused to get out of the vehicle. He would jump back and forth over the seats of the car avoiding me. To others it might have looked quite funny – me chasing this little six-year-old kindergartener all over my car. Once I got him out of the car, he would plant his feet and refuse to walk, forcing me to carry him— as he cried and begged me not to leave him. By the time we got to his kindergarten class, his teacher actually had to pull him loose from me.
Anguish would grip my momma's heart and as soon as I got into my car and out of the school parking lot, I would burst into tears and cry all the way home. I had an anxious child. He experienced fear so profound, it took three years of counseling to help him. For some children, it is genetics, for others, it can be from some traumatic incident in their life. That was our case. I debated homeschooling, but our counselor said doing so would only reinforce his fear of the outside world.
It took every ounce of my will to push that little boy to go to school, but it was the best thing for him. I did not do it however, without letting his teacher know his situation and continuing his counseling sessions. I even became a volunteer in his classroom several mornings a week, which greatly helped to ease his fears. He is grown now and doing great things. He has confidence and enthusiasm for life. However, as a mother, who saw her child hurting, all I wanted to do was keep him home with me and protect him.
What I learned was a balance. I protected and consoled him and I encouraged healthy things for him too, even when they were difficult. (Like making him go to school.)
With each new thing he encountered, like going to school, we talked it out and used his action figures to show him what he would be doing the next day. I always let him know I would be back and when. I encouraged him and told him how proud of him I was for being so brave and strong. When we went through what his next day was going to be like (with his action figures) I always ended it with me coming to pick him up from school.
If you find yourself dealing with an anxious child, then you know how hard it is. If you are uncertain if your child is dealing with anxiety, ask yourself these following questions.
· Is your child irritable a lot of the time?
· Are they experiencing unnecessary worries about school or some extreme unexplained fear? Such as a fear of an insect, a mascot costume, an animal.
· Are you having trouble getting them to school on time because of a physical symptom or complaint they keep having?
· Do you find yourself, sitting in their room at night to get them to sleep, because they feel afraid?
· Is your child worried about losing you?
· Does fear of embarrassment seem to paralyze them?
· Is your child anxious and clingy in social situations, such as church or while playing team sports?
Then you could be dealing with an anxious child.
Severe anxiety problems in children can be treated and affect as many as 6%-20% of children and teens according to Seattle Children's Hospital Research Foundation.www.seattlechildrens.org/pdf/PE1492.pdf
If a child or teen's anxiety disorder goes untreated and/or unrecognized, it can lead to difficulty with school performance, loss of sleep, friends, and difficulty functioning in social settings. Among teens and college age students, anxiety is often to blame for substance abuse. No one understands or knows your child as you, their parent does.
There are many different symptoms related to anxiety and they can manifest themselves in different ways.
Some children and teens experience separation anxiety, which can cause them intense fear, panic, difficulty sleeping, nightmares, and physical symptoms, (like stomachaches and/or headaches). They may fear going anywhere, you, as their parent, cannot accompany them, causing them to be very clingy. My son experienced all of these. When he was afraid to go to sleep, I would sit by his bed and pray with him. After that, I would just sit by his bed patting his little three-year-old back until he fell asleep. Little by little, I moved a little farther away from him until I was in the hall. This helped him learn to feel secure when going to sleep.
Children can also experience extreme fears and aversions over certain things, like spiders, or going swimming. These are phobias, and while they may seem irrational, they are very real to our children and teens.
Another type of anxiety is social anxiety. That is fear of talking to new people or people in general. It can cause children and teens to sweat profusely, when they are out in public and having to interact with others. It can cause them to want to avoid meeting new people, leaving them with few friends outside of family.
Anxieties can lead to children feeling afraid of being embarrassed. They may worry constantly, have unwanted repetitive thoughts, which are called obsessions (constantly fearing you will die or they will die) and or unwanted actions called compulsions. (Constantly washing their hands or locking the doors.)
There is hope. No one knows your child the way you do. If you are seeing these issues taking place in your child's life, then talk to them. Ask them what is worrying them. Observe and keep track of when they have a "meltdown". If it continues for six months or longer, consult your pediatrician or family doctor. Your family doctor should be able to refer you to a psychiatrist and or counselor if needed.
So what can you do?
· Talk to your child. Ask them what they are feeling. For younger children, you can use emoji faces that they can point too. One could be angry, the other happy and smiling, the other crying, etc…
· Keep a journal and write down when an outburst or "meltdown" occurs. This will help you keep track of how many times it is happening and give you a clearer picture of the situation.
· Listen to your child and pray with them. Pray scripture with them and over them. For example:
Isaiah 41:10
"So do not fear, for I am with you; do not be dismayed, for I am your God. I will strengthen you and help you; I will uphold you with my righteous right hand."
· Always encourage and praise them for accomplishments. (big and small) "You got your shoes on in time for school. I am so proud of you!" "You studied hard for that test. I am proud of you for putting the time in to study."
When your child becomes fearful or anxious over a new situation remain calm. Yelling or getting angry only escalates the situation. Reassure them that you are there to help them and so is Jesus. Give them scriptures that they can memorize.
2 Timothy 1:7
"For God has not given us a spirit of fear, but of power and of love and of a sound mind."
· Try to keep a normal routine, as this will give your child a sense of security.
Do not punish your child for mistakes or things beyond their control.
· During times when stress is high, be flexible and do not be afraid to make adjustments.
Plan for times of change. Play therapy works great with younger children. Use their dolls or stuffed animals to act out the next day's events so they know what to expect. With older children, spend a few minutes discussing the changes with them.
· Do not hesitate to call your child's pediatrician and/or family doctor for a referral to a psychiatrist.
· Seek out qualified Christian counselors and psychiatrists when necessary.
Always assure your child that no matter what happens, you love them and nothing can change that.
Remember, helping your child earlier is better than later. Individual and family counseling can greatly help your child learn coping skills that will be helpful for life.
Reassure your child with love, calmness and with scripture.
Isaiah 43:1 says,
"But now, this is what the Lord says…Fear not, for I have redeemed you; I have summoned you by name; you are mine."
*If you think your child has suffered some sort of traumatic event seek help immediately.