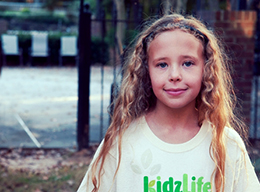 How to Set a Child Free from the Lies She Believes
If you work with kids, or have kids, or know kids, you are sure to come across a broken-hearted child: one who has a downcast spirit due to the actions of someone else. It might be after one (or more) of their peers has been cruel to them, or maybe it's after someone talks behind their back. It might even be a foster child whose own mom or dad has broken the sacred trust of parenthood.
Kids (and adults, for that matter) can so easily absorb unkind words and actions, and allow lies to shape what they believe about themselves. I deserve this, I'm not as good as those other kids, I am not worth loving. In their own eyes, this is who they are–but not in God's. In God's eyes, they are precious–handcrafted in His own image. And we should see each and every child as precious too. As those working with children, we should actively put on the lens of compassion each and every day. Ask God to reveal which kids need special attention, an extra hug, and truth spoken specifically to their inner being.
1. Show them the Model of Jesus.
When God opens up the door for you to counsel a child who has been treated badly, consider gently pointing them to this truth: When someone treats you badly, you are being treated just like Jesus was (John 15:18). Many people (peers as well as those in power) were unbelievably cruel to Jesus. They lied about Him; they talked about Him behind His back; they accused Him falsely. After that, they beat Him, spit on Him, and nailed Him to a cross. Clearly, some people despised Him. But NONE of that diminished who He was one bit. None of it changed His identity one iota! He was, is, and always will be the beloved Son of God.
What did Jesus' heavenly Father have to say about Him? "This is my Son, whom I love; with Him I am well pleased." (Matthew 3:17) Surely those tender words carried Jesus through the roughest moments. God's love and affection deflected the arrows–so much so, that the lies and hatred could not begin to seep into the heart of Jesus. God's truth was so ingrained in Jesus that He knew the aggressors' actions were to their own peril and His heart broke for them. Why else would He cry out for their forgiveness?
2. Acknowledge the Separation Between What was Said to Them and What God Says About Them.
Assure the child: Yes, it hurts when someone treats us badly. It is totally natural to wince at the sting of their unkindness. But it is that person's problem. Do not let it become yours. Ask God what He thinks. Simply whisper, "God, what do You want me to know? Who am I to You?" Listen for His loving words of truth. Write them down and carry them with you. Hide them in your heart, so that they will become the armor that protects it.
It is a beautiful thing when the child can be still and allow God to speak directly to his or her heart (John 10:27). Sharing verses like these can help start the process. Let the child know these are God's own words to us. Make it personal by putting their name in them:
For the Lord your God is living among you. He is a mighty savior. He will take delight in you with gladness. With his love, he will calm all your fears. He will rejoice over you with joyful songs. – Zephaniah 3:17 NLT
God loves us deeply. He is full of mercy. – Ephesians 2:4 NIrV
So we know that God loves us. We depend on it. God is love. Anyone who leads a life of love is joined to God. And God is joined to them. – 1 John 4:16 NIrV
I am absolutely sure that not even death or life can separate us from God's love. Not even angels or demons, the present or the future, or any powers can separate us. Not even the highest places or the lowest, or anything else in all creation can separate us. Nothing at all can ever separate us from God's love. That's because of what Christ Jesus our Lord has done. – Romans 8:38-39 NIrV
3. Use the Visual Imagery and Scripture
Remind the child that when they are girded with truth, lies cannot penetrate (Ephesians 6:14). The more truth we receive from God, the thicker our armor becomes and soon the ugliness from others will bounce right off. Our amazing God turns bad things into good. When we are treated like Jesus was, the painful times can even help us become more like Him. "If you keep your ears open to the Father, I'll bet pretty soon you'll be praying for those who hurt you–just like Jesus did." And praying for those who hurt us (Matthew 5:44) brings an amazing amount of healing to us too.
This advice is certainly not a replacement for thorough counseling for children with deep emotional wounds. But it is always right to drench our kids with truth, and for a child who is bound up in lies about themselves, this is truth that can set them free.
To read more blogs from Jodi, click here.