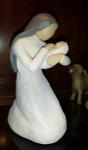 Life Interrupted: Lessons from a Teen Pregnancy
Mary's story has always fascinated me, but never more-so than a few years ago in a darkened theater. I went to the movies with a friend, and we watched as a young woman portrayed the confused teen who found favor with God. My own life had been freshly interrupted by God. Mary's confusion echoed my heart's response. The friend sitting next to me gasped as she saw Mary's surrender: "Oh God. I can't believe she said yes."
That's the rub. A young Jewish girl agreed to have her life forever altered to be part of God's purposed story. The account we read in Luke is short and yet so much happens.
Confused and disturbed, Mary tried to think what the angel could mean. (Luke 1:29, NLT)
But how can this happen? (Luke 1:34, NLT)
After finding reassurance and a little more detail from the messenger, Mary settles into a response that conveys her faith and trust.
"Let this happen to me." (Luke 1:38, NET)
She said yes.
Interruptions come in a variety of forms: the diagnosis you didn't see coming, the loss of a dream, the death of a relationship, natural disasters, accidents, moral failure, loss of someone we love. Infertility. Pregnancy.
Our expectations come to a screeching halt. Even if the interruption turns out to be an opportunity, a blessing in disguise.
How do you deal with your interruptions? I wish we could sit down over coffee and ponder our own stories, questions and interruptions.
However, this is a blog post. So I'm going to offer three life-lessons I see in Mary's story because they have also been true in my own life.
Your Power: Trust God with the Interruption
Life doesn't look like you thought it would. Interruptions always make us question God and his goodness. Mary asked her questions. She was unique in that God gave her an angelic messenger with answers. But God is also big enough to handle our questions. Be angry with him if that's your honest response. Give him your emotion. Be honest about what's going on in your heart. He's okay with that. Scripture is full of examples of people pouring out their hearts to God. Believing him and his goodness even in the face of pain is called faith.
Your Perspective: Look for the Good
If you look for the good, you will find it. Some people use gratitude journals; some call it counting "gifts." Verbally and tangibly remind yourself of the good parts. What do you taste, touch, smell, see, hear? Your favorite hot tea. Running water. A friend who brings you food. Find something to be grateful for, because nothing shifts our mood like a shift in perspective and telling ourselves truth.
In my English Bible, ten verses of Luke are devoted to Mary's song of praise to God. That's one verse of praise for every two verses of the actual narrative. It may be difficult, but we need to spend our words and effort looking for things to thank God for.
Your Process: Embrace Time and Space
God may not be bound by time and space, but he graciously gives them to us. We need time and space to process our interruptions. We develop. We grow. I know Mary had to be grateful for nine months of gestation to wrap her mind around what was happening in her body. I'm glad Scripture records all the times she pondered in her heart and reflected on life. We are creatures who require that.
So take your time. Preferably with someone you trust. Talk and question, meditate, contemplate. Pause this week and rest in knowing that God loves you. Even in the interruptions.