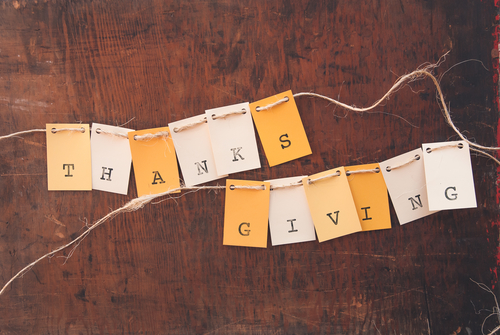 A few years ago I was invited to go on an overseas mission trip. This journey was to a country on the other side of the world with a foreign culture and language, and would take almost 24 hours to get there. No doubt many of you readers have done the same, and know the planning, anticipation and excitement of such a trip. Still, it's not unusual to have a little nagging insecurity regarding the unknowns, and that was how I was feeling. I would be traveling alone on a long leg of the trip, navigating an unfamiliar airport with a tight connection and felt a little uneasy about it. I shared my concern with one of my prayer partners who quietly said, "Gratitude is the key that unlocks an anxious heart. When you start to worry or fear, thank God for His provision and care."
I instinctively recognized the wisdom of the statement and took it as my mantra for that trip and beyond. I've discovered that giving thanks has a powerful effect on my emotions and spiritual perspective. There are times when gratitude overflows out of a full heart when recognizing God's astonishing blessings and gifts. But then there are the troublesome times, when things are not right in my world and giving thanks then becomes a discipline I must practice. Either way, I'm obeying Paul's exhortation in 1 Thessalonians 5:18, "In everything give thanks, for this is God's will for you." It is always God's will to give thanks.
I imagine this process like a growing, flourishing tree. Gratitude is the root system which is strengthened and deepened when I cultivate a life of obedience, when I feed my spirit on the Word of God and have regular times of prayer. Naming specific gifts is helpful as well – thanking God for His blessings and resources so generously given to us all. But more than anything, my gratitude is to our Lord Jesus, for His salvation and spiritual blessings. As this tree matures, I pray that the roots of my thankfulness will grow deeper and the fruit will become sweeter.
What kind of spiritual fruit is connected to thankfulness?
Hope: Psalm 33:22, "Let your steadfast love, O Lord, be upon us, even as we hope in you."
Prayerfulness: Philippians 4:6, "…in everything by prayer and supplication, with thanksgiving, let your requests be made known to God."
Peace of mind: John 14:27, "Peace I leave with you, my peace I give to you…"
Generosity: 2 Corinthians 9:11, "…through us your generosity will result in thanksgiving to God."
Thoughtfulness: Philippians 2:3, "…count others more significant than yourselves."
God's Presence: Psalm 100, "Enter His gates with thanksgiving, and His courts with praise."
Healthy Thoughts: Philippians 4:8, "…whatever is true, whatever is honorable, whatever is just, whatever is pure, whatever is commendable, if there is any excellence, anything worthy of praise, think on these things."
Intentionally practicing gratitude proved to be helpful in every aspect of my trip. There were some unexpected challenges among our team, a project that didn't turn out as planned and a personality conflict or two along the way. But, as usually happens, the positives far outweighed the negatives. Keeping a thankful heart proved to be spiritually beneficial to me in so many ways on that mission. I have learned over the years, like you, that difficult times may be, well, difficult, but they can also be spiritually prosperous if I will listen to the Spirit, stay teachable and remember to give thanks, no matter what. And, I have also learned that gratefulness not only unlocks the door of an anxious heart, but also a fearful heart, a resentful heart, a jealous heart, a discontented heart, a wounded heart, and on and on. As a follower of Jesus, every day is thanks giving day!