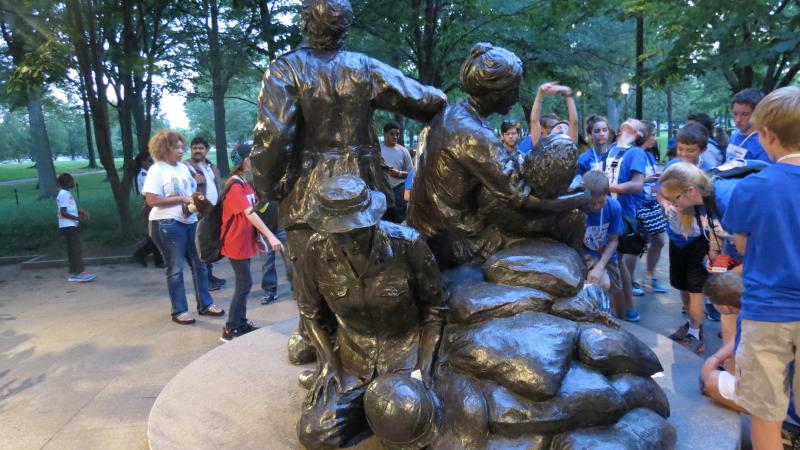 For the past four days, I've walked the streets of Washington, D.C., with a group of eighty-nine 8th graders and twenty other chaperones. We averaged 9 miles—walking—daily, from monument to museum to house of government and back again. Beautiful June weather also meant we encountered other tourists, which added to the crowds and waiting time.
Most 13- and 14-year-olds I know aren't the most observant, patient, and thoughtful people. But that's what chaperones are for, right? To guide their behavior, to watch out for them in unfamiliar territory, to help them see the significance of their surroundings.
To warn them not to hog the sidewalk so people can pass by in the opposite direction.
Maybe our Southern heritage came into play, or perhaps our students were just an exceptional group. While not perfect, they made a positive impression everywhere they went. Each day of our tour someone complimented them for their manners. A few examples:
The White House security guard at our second checkpoint (out of three) told my husband that he had never had so many kids say "Yes, sir" to him as they went through the line.
A waitress at one of the buffets we invaded for lunch commented on the group's politeness and patience. (Feeding 100 people all at once takes time!)
Our bus driver thanked the group for obeying his simple rules and being gracious to him every day.
By the second day, our tour guide was full of praise about the kids' positive attitudes, friendliness, and respect for his leadership.
The airport gate attendant commented to a chaperone, after the students had waited by his gate for an hour, "They are great kids."
My husband, as both a parent and as the principal of this student group, shared some of these compliments with the kids late in the tour. He commended them for living out the three rules the school administration had emphasized during the year:
Exhibit self-control.
Take responsibility.
Watch out for and take care of others.
Such behavior certainly helped a once-in-a-lifetime trip go smoothly for these teenagers: obeying security officers' rules, not joking inappropriately, keeping track of their own money, sticking with the buddy system, checking in with chaperones, saying thank you—they impressed influential people, including their own school officials. Their manners made a difference!
Are you better behaved than an 8th grader? Those scriptural principles sound like words to live by for any individual.
In Galatians 5:23, self-control closes out the list of the fruits of the Spirit. When we are controlled by the Spirit of God we will master our own desires. We are not driven by whim and impulse but allow the Lord to direct our choices and behaviors.
Personal responsibility is a mark of a mature person. Leaders value honor, being truthful about mistakes or bad choices, admitting our sin, and repentance. In the debacle with Bathsheba, David at first attempted to cover up his complicity, but when confronted by the prophet Nathan he threw himself on the mercy of God, admitting every facet of his sin (2 Samuel 12; Psalm 51). 1 Thessalonians 4:11-12 says, "Make it your ambition to lead a quiet life, to mind your own business and to work with your hands, just as we told you, so that your daily life may win the respect of outsiders and so that you will not be dependent on anybody."
One of the hallmarks of the Christian is love. Caring for those in need, protecting the weak, fighting against injustice. It can be as simple as observing the moving car and holding a friend back from walking across the street in front of it. Maybe you support a child or have adopted one. Or you've fixed a meal for a sick friend, or visited the shut-ins in your community. How are you living out the command to love?
We are called to a bit more than just good manners, though those never hurt anyone's cause.
One of the national memorials depicts three female nurses from the Vietnam conflict. One kneels with her head bowed, one looks to the skies as if searching for the rescue helicopter, and the other holds a dying soldier in her arms. They are traditionally named "Faith, Hope, and Love."
1st Corinthians 13:13 "So now faith, hope, and love abide, these three; but the greatest of these is love."