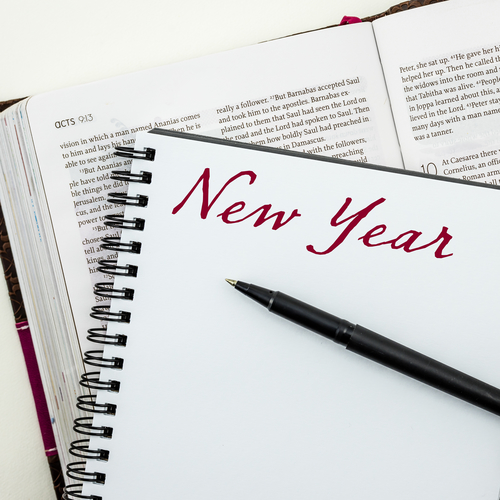 New Year: Looking Back and Forward Through the Lens of Struggle
It's easy to look back at the previous year through the lens of struggle—to look only at the difficulties, the disappointments, the dark places—and then jump to inappropriate conclusions. My husband and I have had more than our fair share of "hard" the over the last year with tough ministry decisions, medical treatments for our son, and the loss of loved ones. Friends have faced equal if not greater challenges as well. The list of those struggling is endless.
Thus I've been pondering on the struggle and the hard lately, but not in the way you might think.
For churchgoers who think the Christian ideal is "health, wealth, and happiness," they might reason that my ponderings are about whether or not my husband and I have sinned and that's the explanation for our struggles. Perhaps somehow we've not been faithful and therefore that's why God has not been faithful to us. No, that "Name-it-and-claim-it" train of thought (also called Prosperity Theology or Prosperity Gospel) is false. (For explanation as to why this theology is false, see resources posted at the end of this article).
Others might state it a different way. They might think that perhaps because of some of our ministry decisions we have left God's covering and therefore he is no longer blessing us. This thinking is also false.
Dr. Gail Seidel, in her blog article Blessed—What Does Blessed Really Mean?, states that "Jesus speaks of being blessed in ways we might not typically associate with blessing." She lists these New Testament examples:
Matthew 5:7-11:
Blessed are the poor in spirit
Blessed are those who mourn
Blessed are the meek
Blessed are those who hunger and thirst for righteousness
Blessed are the merciful
Blessed are the pure in heart
Blessed are the peacemakers
Blessed are those who are persecuted because of righteousness
Blessed are you when people insult you, persecute you, falsely say all kinds of evil against you because of me.
James 5:11, " blessed are those who have persevered."
1 Peter 3:14, "but even if you should suffer for what is right, you are blessed."
As the verses above demonstrate, blessing has nothing to do with worldly success, health, and wellness.
The reason I've been contemplating the struggle and the hard lately is because I want to change my lens of life. This past year I started down the slippery slope of focusing only on the hard. Instead I want to look back at how God sustained us amidst the hard. I want to ponder and wonder at God's sustaining power, because in that we see God's faithfulness. Let me give an example:
We had prayed, friends had prayed, and family members had prayed that our son would not need major surgeries. Unfortunately he did require operations. He has long-term medical needs. He has endured several surgeries already and has testing in the near future to determine if yet another will be necessary.
But if I don't change my focus it becomes easy (and I say this as a pastor's wife and a seminary graduate) to think that God does not care and that he is unfair. Looking back at the struggles of the last year effortlessly turns into focusing on the struggles from the year before, and ten years before that, and pretty soon I'm questioning the Lord, "Have I not endured enough already in this life?"
Stop. Wait. What? Did I just admit that? Yes. Yes, I did. (Shock, gasp, stutter.) And if you've pondered the same, that is ok. We just cannot stay there. Let's continue…
How did looking back at the hard lead me to doubt God's faithfulness? Looking back steered me in that direction because my focus was down on the circumstances and not up toward the Author and finisher of my faith (Heb. 12:2). Do you see the shift in focus?
Thus instead of looking back at the year through the lens of struggle I need to list how God (and his people) sustained us amidst the struggle:
We were sustained…
Physically by meals that friends and family prepared and left in our fridge and freezer.
Physically (i.e. we are still standing!) despite intense stress and sleep deprivation.
Financially by donations for medical travel expenses and a charity hotel located near the hospital.
Emotionally by the text messages of concerns and prayers from friends and family.
Emotionally by comfort and peace that could have only come from the Lord.
Yes, we are still exhausted. Yes, we are still in survival mode. But God sustains us daily. He cares for us. He is faithful and we choose to praise Him. Here are a few verses for your consideration:
"Blessed are those who have learned to acclaim you, who walk in the light of your presence, Lord." (Ps. 89:15 NIV)
"This saying is trustworthy… If we are unfaithful, he remains faithful, since he cannot deny himself." (2 Tim. 2:11, 13)
"And if God cares so wonderfully for wildflowers that are here today and thrown into the fire tomorrow, he will certainly care for you. Why do you have so little faith?" (Matt. 6:30 NLT)
Final Thoughts: Taking all of this into consideration I leave you with these final thoughts. We are not "home" yet, and until we are, we will continue to live in a fallen world filled with struggles and the hard stuff of life. But I will still choose to declare that God is good and that He is faithful. Will you?
Challenge: How has the Lord sustained you this past year? Make a list. How you look back at the year will dictate how you look forward to the next.
---
Resources discussing the falsehood of "Name-it-and-claim-it" theology:
Photo courtesy of Lightstock.
The original version of this blog was posted on January 14, 2019, before the pandemic.