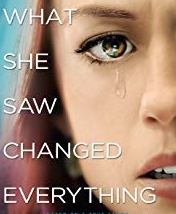 Now. This week. Push back against the great silencing of our time.
If a pro-life movie was refused soundtrack licensing by almost every major record label…
…if it was refused paid advertising spots on every mainstream television outlet (save Fox News)…
…if the MPAA slapped it with an R-rating for portraying a 2-D gray-scale abortion on the screen of a sonogram machine and the bleeding in the bathroom from the abortion pill…
…if it faithfully represented the first-hand experience of a former Planned Parenthood executive who is now Pro-Life…
…if it was attacked by Planned Parenthood saying, "The claims in this film are simply false" ("These are not the droids you're looking for")…
…then I would make every effort to see it opening week.
The movie is Unplanned, and it opened in over 1,000 theaters Friday.
Please try to see it. Let's defy the censorship trying to crush a project that simply tries to tell the truth about abortion and the pain wrought on 60 million unborn children and countless mothers since Roe v Wade. Have you ever seen a movie or a TV show that comes anywhere near portraying the medical or emotional reality of the actual abortion experience? The forces of suppression have been extraordinarily successful.
I have seen one such movie: Gosnell. It was very tastefully done. No actual scenes of the bloody business of abortion. And I left the theater feeling like it was a good thing to bear witness to the great and silent destruction of our times. Just as it has been good to bear witness to movies about the Holocaust.
Or perhaps I should say "silenced destruction." In today's culture, you can give an Academy Award to a pro-choice film (Cider House Rules), but even with all the TV medical shows filmed in hospital settings, you cannot put a pro-life story about abortion out there without the forces of the sexual revolution trying to bury it in any way possible.
In addition to pulling back the curtain on abortion, the film portrays pro-life protestors and Planned Parenthood staff as motivated by care and concern for women in crisis. Well, there is one group of pro-life protestors that is judgmental and harsh. but the group that bears fruit reaches out in love and prayer for the women arriving for abortion and even the staff.
And of course, they show great love for the unborn children too. That was the love that reached Abby Johnson, the actual former Planned Parenthood executive on whose life the film is based. It's so rewarding and inspiring to see Christians fight for life with love!
For those of you concerned about the R rating, Abby explains:
The movie does not have profanity. The Lord's name is not taken in vain or disrespected. There is no nudity, no immodesty, and certainly no sex or "suggestive" moments. None.
So why the R rating? For two scenes. Two scenes that the movie team was determined to re-create accurately, at my insistence, because they are important for people to see. The first is a CGI (Computer-Generated Imagery) recreation of what I saw on the ultrasound screen when I assisted in the abortion procedure that convinced me of the humanity of the unborn. You will see what I saw: a baby on an ultrasound screen in black and white 2D. You will see the abortion instrument, which looks like a big straw in real life and like a dark line on the ultrasound, introduced onto the screen. You will see the baby struggle against it. You will see the baby first slowly, then quickly disappear into the instrument as it does what it is designed to do.
It is important for you to know that this was a CGI recreation and NOT footage from a real abortion. But it sure looks like what I saw. I think this scene is so important for teenagers and older children to see because it tells the truth about what our culture keeps trying to insist is a "right" and a "freedom." No one will be able to see this scene and then say they "don't know" the truth about abortion.
The second scene that was cited as a reason for the R rating is a scene that re-creates my awful experience with the abortion pill. Ashley, the actress who plays me, did a fantastic job capturing both my physical pain and my fear. I won't lie to you; that scene shows some blood. In real life I hemorrhaged so badly I thought I was going to die. The movie captures that without being gratuitous or gory. I think the producers walked that line well.
The rest of the film is not as intense as those two scenes. It will make you laugh, make you cringe, gasp, cry and cheer — all the things a good movie should. The difference with "Unplanned" is that it has the potential to change and save lives in the process.
Our children are of the generation who is being lost to abortion. This is personal for them too. They are likely to hear and see more graphic content in most school health classes! I guess what I'm trying to say is, this movie is authentic. Yes, it's a movie about abortion, but even more so, it's a movie about the truth of forgiveness, repentance, and redemption, because that is what the story of my life, is really about.
If you do get out to see it, please comment below on your response for the benefit of others.
See you at the movies,
Lael
www.laelarrington.com