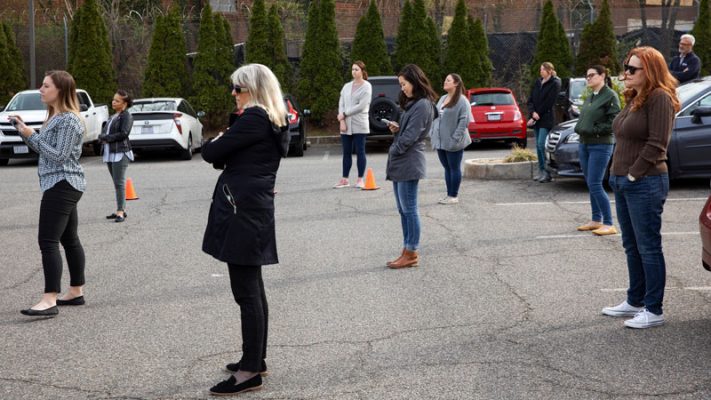 Loving Your Neighbor from Six Feet Away: Serving Others during COVID-19
The recent COVID-19 recommendations from government and health officials have most of us hunkered down in our homes, only venturing out for the occasional walk or necessary errand. Though the times have necessarily dictated a drastic change in our daily routines and social norms, how can the church continue to connect and serve our communities well…from a distance?
Below are some ideas, many of them crowd-sourced from Facebook. If you are able, pick one or two and better yet, make it a communal event by asking your family/friends/Bible Study/small group/etc. to join you.

Donate to food banks and homeless shelters. Roughly 18% of American children live in "food insecure" homes; many depend on schools for meals. Additionally, organizations serving the homeless are no longer able to provide meals to mass gatherings and have seen a drastic reduction in food donations while individuals stock up their own pantries. Check with your local food bank, meals on wheels, boys/girls clubs, homeless shelters, etc., and see what their needs are. Many have online donation links or Amazon wish-lists.

This spreadsheet includes a comprehensive list of Texas school closures and available food resources.

For those in the DFW area, some suggested organizations:
Our Calling
LovePacs
NorthTexasFoodBank
BridgeBuilders (Also looking for tutors for school-aged kids.)


Adopt a Nursing Home. Nursing home visits have been drastically reduced in order to protect the health of residents. There is concern this could result in a stark increase in loneliness and depression among a population already prone to those things. Adopt a home and send encouraging notes to residents. Get your kids involved – I imagine many shut-ins would be particularly delighted to receive a drawing from your 8-year old!


Check on your neighbors, even if you have never met them. Although I've lived in my home for five years, I can only tell you the names of about half the homeowners on my street. Obviously, now is not the time to take over a pie and introduce myself. But I can use our neighborhood facebook group to check on others. I've seen other neighborhoods use forms such as the pic below from the UK's #viralkindness movement to check in with one another. Others have dropped notes in mailboxes introducing themselves and offering services. Now is a great time to get to know your 'hood.


Become a crisis text counselor. Social isolation/fear of a global pandemic/highly uncertain economic times…it's likely we will see a spike in stress, anxiety and depression. Become a volunteer crisis text counselor.


Try to connect needs. Many parents are juggling the sudden addition of child-care and home-schooling responsibilities while keeping an income flow. Others have recently lost work or are facing loss of income as their industry slows down. So – do you know a graduate school student who used to wait tables? Perhaps they can become your nanny or your child's tutor. Know someone struggling to make ends meet? Help that individual AND your local mom-and-pop restaurant by sending a take-out meal or restaurant gift card to their home.

Speaking of jobs, the following might be of use for anyone looking:
ShiftSmart
Amazon
Area schools – could provide tutoring leads
Grocery stores
IT services


Be gracious, generous, and considerate. Tip way more than necessary. Greet people in stores with a smile. Let someone in line ahead of you. Everyone you encounter (from 6 ft away, of course), is likely enduring some additional stress right now. Extend grace.


Connect with one another. Call someone daily. Write encouraging notes. Enjoy some down time within small groups. Treat those in your home with an extra amount of kindness and grace, especially since you may be enjoying some "togetherness" for a while. For some more ideas, check here.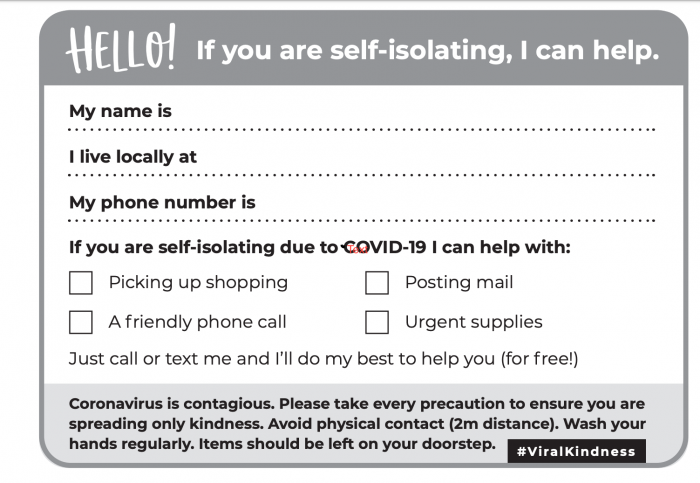 Christianity is, at its core, incarnational. "The Word became flesh and dwelt among us." When reviewing the vast spread of Christianity from an "obscure, marginal Jesus movement" to the largest religion in the world, author Rodney Stark cites the Christians' response during historic plagues as a primary cause. Instead of moving away from their neighbors, these early believers moved towards them. Though in our time we need to keep our physical distance, may history write that Christianity continued to spread and grow as a result of the church's movement towards those in need during COVID-19….even from six feet away.