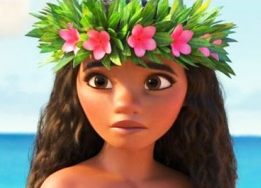 Racial Divide and Disney's Moana
These days I have one of two things on repeat in my mind. It's either Disney's newest Polynesian Princess, Moana and, her sidekick chicken, Heihei, or it's remembering the barrage of police brutality cases that inundate my news feed. You may be asking why such a weird combination of choices, but in my world I have three little people who demand we watch Moana every waking minute, and in my other world, I am supposed to be a public figure that keeps watch on social issues. So, this is a totally normal mix of mind consuming media for me however, the interesting juxtaposition of my life has allowed these two seemingly unrelated topics to intersect in a unique way.
On June 16, 2017, the world learned of the verdict, not guilty, in the Philando Castile case. My social media was a cascading uproar of comments hurled from both sides of the issue. While my job is not to persuade you concerning the facts of this case or many others like it, I believe it's fair for me to say that you could understand the overwhelming helplessness that beset me amidst all of this. Once I finally got my bearings, I came up to take a breath yet another swell of water broke over my shoulders. I watched as an unarmed man was punched in the face and kicked to the ground on a routine stop. He was just a teenager. I let the water consume me until things went dark…
Enter, stage right- Moana.
***Warning spoiler alerts***. It's now available on Netflix so I highly recommend watching it.
Moana is the plucky daughter of the chief who finds herself fighting for the fate of her entire people. She travels across the sea with the character Maui, played by Dwayne Johnson aka "The Rock", to restore the heart of Te Fiti, a mythical island that was believed to hold the power of creation. To accomplish this feat- she faces an evil lava monster, Te Ka, who protects the mother island. The entire movie builds up to this epic battle as the pair arrive at their destination, weapon in hand, the sea raging, and a maleficent Te Ka hurling fireballs their way. Any Disney fan sitting on the edge of their seat expects Moana to reveal a weakness in her opponent and bring about the final demise of her enemy. Instead, the waters calm and the music softens as Moana identifies with Te Ka, focusing on their shared qualities rather than the polarity of their fight. Moana stands calmly as the ocean parts for her, the monster barrels down on all four, ready to devour. However, Te Ka is stopped in its tracks by the display of civility offered to her. This upset in the typical narrative of a hero movie confused several however, there is something extraordinarily beautiful about watching peace win.
"Can peace ever win?" These were the words that rung in my head between our daily viewing of Moana and countless hours of Facebook scrolling. Amidst the helplessness of today's political and social climate is it possible for peace to erode hatred, distrust, and a lack of understanding? Is it possible to reach across the aisle and wave a white flag of civility, even as the proverbial lava monster rushes toward you ready to pounce? I'd like to think that Christians of every color and creed could answer yes to this question. Unfortunately it appears we have not only allowed the tension of the day to seep into the church, but we have also become major proponents of quietly watching the status quo drift by.
I am reminded of the story I heard about a black musician named Daryl Davis. Davis is the star of a documentary that chronicles his mission to befriend members of the KKK by asking them a simple question, "How can you hate me if you don't know me?" It is said that Davis' tactics have softened the hearts of approximately 200 Klan members who have offered their robes to their new friend as a demonstration of their change of heart. You can read more about Davis' story here: Or you can watch the documentary on Netflix "Accidental Courtesy."
At the heart of Davis' method is a principle echoed by Princess Moana's daring act of kindness. Davis found that it's possible to be an ambassador of change by appealing to our shared human nature, in doing so, enemies become friends, Klan members become civil and lava monsters reach their full potential. I do realize that healing the racial and political divide in this country is more dynamic than simply making friends, however, I wonder where Jesus would start on this journey? The helplessness that I felt after the Philando Castile case is quickly lifted as I think about how our Lord was a pioneer in healing racial and social divides. After all, as a Jewish man in the middle east, he was inclusive towards women of all walks, he welcomed the company of Samaritans, and ate dinner with tax collectors. In the wake of his example, he left us these words as a last plea to the Father concerning his church:
John 17:20-23
"I am not praying only on their behalf, but also on behalf of those who believe in me through their testimony, that they will all be one, just as you, Father, are in me and I am in you. I pray that they will be in us, so that the world will believe that you sent me. The glory you gave to me I have given to them, that they may be one just as we are one – I in them and you in me – that they may be completely one, so that the world will know that you sent me, and you have loved them just as you have loved me."
This is the Word of the Lord
Thanks be to God