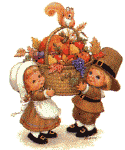 Am I rushing things to ask you to think about Thanksgiving in September? Maybe. But, please hear me out. What characterizes the Christian life more than that of giving thanks? We do a lot of activities ahead of time during advent and lent to prepare for Christmas and Easter. What do we do ahead to prepare for Thanksgiving Day?
What is a Thanksgiving Day without giving of thanks? It can easily be forgotten in the midst of the food and fun. Be intentional this year,
Take advantage of the next nine weeks to prepare. If you are home schooling, teaching Sunday School, or just plain parenting this will be an activity that could begin to change the way your children think.
It is really best to do this all year long but
for this year just give it a try over the next few weeks.
Shoeboxes aren't just for Christmas and children in third world countries! Give one to each child. Let them decorate it and put their name on it.
For those too young to draw and cut out feathers of different sizes and fall colors you will need to do it for them. For those too old for Turkeys ask them to decorate slips of paper as creatively as they can.
Each week ask them to write on at least one or more of the feathers/slips. Have them place them in their box.
Weekly theme:
– the name of one person that they are thankful to have in their life
– answers to prayers or special things that have happened
– things they have seen that are beautiful
-things that almost happened but thankfully didn't (example: Tripped and fell but didn't break any bones)
– things they have that they are glad they don't have to live without
– things they have learned.
– things they love to eat
– times they felt loved
– their favorite Bible stories, verses or Bible lessons
Thanksgiving week give them a picture of a good size turkey without feathers. Talk about
how sad the Turkey is without it's beautiful feathers. Now, talk
about our lives and how sad they would be without all these wonderful things we've written about. Let each child cut out the Turkeys and glue on the feathers. Ask them to read each one and say a prayer silently thanking God for that special blessing as they attach it with glue. For very small children you will need to handle the scissors and the glue but allow them to do the attaching as you pray with them.
At the end of the activity ask each child to tell you which was their most favorite blessing of all. Pray together and give thanks for these very special things. Use the Turkeys to decorate your room/ dining room.
For much older children give them each a helium filled balloon with a long string. Talk
about how God decorates our lives with blessings. Have them paper mache their balloon with their decorated slips. Tie the balloons to their chair and let them rise toward the ceiling as they thank God for their most favorite blessing, symbolizing how our thanks rise to God.