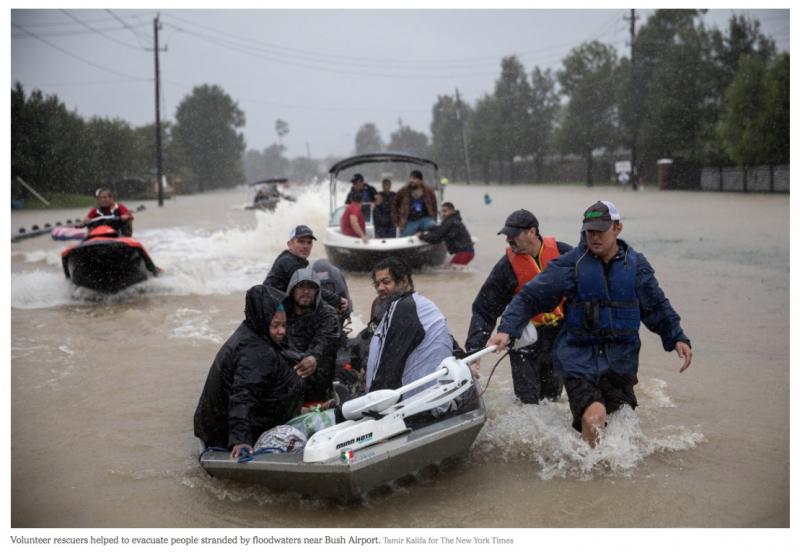 Sudden Change AND The Aftermath
Much has been written about Hurricane Harvey that made landfall near Corpus Christi, Texas on Friday evening August 25. The devastation it caused and the suddenness in which it arrived with only a few days warning brought abrupt change.
People in the predicted landfall areas were left anticipating, wondering if it would impact them, their home, their pets and their friends. Even the preparedness and investment of special hurricane windows and exact sized plywood to cover and protect all the openings in the house of our friend in Port Aransas did not abate the fierce wind that blew water right on past those carefully planned barriers.
Water so basic to staying alive became a damaging force threatening life itself.
How does one compute this sudden change, this unwanted onslaught, the dramatic instant shift that in some cases leaves whole families totally bereft with only their lives and the clothes on their backs? It is hard to grasp. You don't have the categories to do it. You can't.
All you can do is what you can do then, leave the rest to our sovereign God whose reasons are often shrouded in mystery. We can be certain however about God's character and His absolute love and provision of His care AND His Presence in the midst of devastation.
.
We may not know the why it happened but we do know this:
* He will never leave us. He wants us to trust Him in the wrenching away of all that is physical.
When all else is literally being washed away we know from His word – Isaiah 43:2 "when you pass through the waters I will be with you.When you pass through the rivers,they will not sweep over you."
* We know He is our refuge. Psalm 46:1-3 "God is our refuge and strength an ever-present help in trouble; Therefore we will not fear though the earth give way and the mountains fall into the heart of the sea ;Though its waters roar and foam and the mountains quake with their surging…The Lord Almighty is with us; the God of Jacob is our fortress."
* We know He sees and knows all; He knows our hearts and what we need to become like Him. In the middle of this Psalm of confession Psalm 32:6-7 are these words – "Therefore let everyone who is godly pray while you may be found; surely when the mighty waters rise, they will not reach him. He is my hiding place; you will protect me from trouble."
* We know to cling to Him and trust in Him even when there is darkness and despair all around; when you are overwhelmed and feel like cashing it in, remember, "When my spirit grows faint within me it is you who know the way where I walk." Psalm 142: 3 and "even the darkness will not be dark to you; the night will shine like the day, for darkness is as light to you." Pslam 139:12.
God is never in the dark. Jim Denison says- "It is always too soon to give up on God."

* We also know – This kind of disaster brings out the innate human longing to do something to help–to make a difference
" from one report on the internet…everywhere you look, churches, schools etc… people with a strong urge to give….. Mattress Mack inviting storm refugees to come and sleep in his Gallery Furniture store on brand new mattresses, using the merchandise and his delivery trucks to help in the relief. When interviewed on the Weather Channel, he said "don't give me any awards … just honor the first responders and volunteers."
The multitude of heartwarming stories are overwhelming of first responders, police, state and army national guard, firemen, EMS, ordinary people doing whatever they can to help others who are stranded, need to be rescued and helped in finding shelter.
The flood waters are no respecter of persons and the helpers are unified in making sure people's lives are saved. So many people have responded to assist and do whatever they could. For example, Pine Cove Camp in Tyler, Texas summoned their trained college students to gather in Houston at one of the large shelters to put on a day camp for all the children there. Those college students will never forget serving those families and children – doing something to help. It calls out the strongest emotions.
If you have watched as we have and want so badly to do something to help check out these sites: AND please pray for the aftermath and all that will entail in the rebuilding:
* Samaritan's Purse: www.samaritanspurse.org (give or volunteer, just follow the links on the homepage)
* Give to the Salvation Army: www.salvationarmyusa.org
* Give to or volunteer for the Red Cross: www.redcross.org/volunteer
* Texas Baptist Men: go on the link to see how you can help and find out what has already been donehttp://texasbaptistmen.org/Ministries/Disaster-Relief/DR-News/DR-News-Article/Hurricane-Harvey-UPDATE-September-4-2017-1030-PM
Picture credit : "I Love Texas site" and Tamir Kalfa for the New York Times