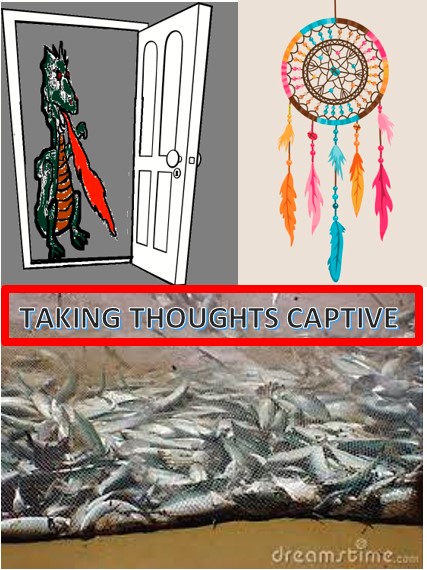 Taking Thoughts Captive and How to Teach it
Thoughts are a part of life. They happen. We can't control when or what thought might pop into our minds. There seem to be as many thoughts that come from outside us as those that begin within. It is no different for our children. From the earliest age of forming thoughts, outside forces impose images in our minds that provoke an emotional response. Imagination is a wonderful gift for without it we could not begin to relate to the God we cannot see or touch. Sadly, in a fallen broken world our imagination can be an instrument used to overwhelm us.
I compare my thoughts to a massive school of fish swimming in the sea of my mind. Some are good and simple thoughts of worship or a to do list. Others are bigger thoughts about who God is in my world and in me. Suddenly there appear these huge shark-like thoughts that have been inserted by the enemy of my soul.
Thoughts of shame and worthlessness are his reminders of failures and past sins. They swim furiously around sending the good and tiny thoughts scurrying off to hide in the rocks of confusion. They block out the light that has been shining on the larger thoughts about how God is working in me and around me. Hidden in the darkness of my doubts I can no longer see them. With nothing good left to view I focus on these predator thoughts. These thoughts produce fear or shame. I am mesmerized and left helpless unable to move or think about anything else.
How do you battle with fearful thoughts or unworthiness? How can we help our little ones calm the thoughts of danger or failure that so many times overwhelm them? How can we teach them to battle the doubts they will face about themselves and God? There is an answer and I think that teaching it to our children at the earliest age possible is vitally important.
Some parents buy a dream catcher, a type of charm made by some native American cultures to ward off their children's bad dreams. I know one father who used to tell his children that he had a good monster that live in his closet who came out at night and ate up any bad monsters. Though these are well intended methods to try to help our children overcome their own imaginations, to be quite honest, they have no truth in them. What happens when they are old enough to have more dangerous thoughts of lust, greed, pride, and such that lead to evil practices as talked about in Galatians 5:15-21. These dream catchers and imaginary monster eaters will be of no use to help them fight against such thoughts.
In 2nd Corinthians 10:3-5 Paul tells us that we are fighting a war against the thoughts within us. We need to take them captive. So how do we teach our children at an early age to bring their thoughts to Jesus so that He can take them captive?
Imagination is our strongest helper. I like to help them imagine their mind is a great sea and that thoughts are similar to different kinds of fish both good and bad. God tells us that Jesus' first disciples were fishermen. We are called to be fishermen too. We need to fish out the bad thoughts and feed and on the good thoughts. We can teach them that prayer is a way to cast their net of trust in Jesus into the waters of their minds where the dangerous shark-like thoughts are growing. Trusting that like a fisherman's net, prayer will chase away the evil thoughts and come back to us full of truth that we can feed on. After praying together imagine with them who God is, tell them of His power, His goodness, His grace, His mercy, Speak of Jesus many kind acts of care for those who trusted Him. It is by truth we are set free, even little children need God's goodness to protect them from their own sinfulness. We can help them see that it is sin in this world that makes it scary and dangerous. God sent Jesus to overcome our sin. If we will trust Him He will save us from our thoughts, from lies, from the dangers that we face from without and within.