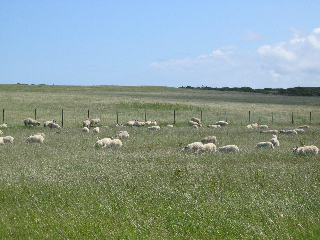 The Color Green, Gold, And St. Patrick's Day
Several years ago my husband and I had the opportunity to visit Northern Ireland and experience the culture first hand. The landscape of the country was beautiful and the people were so friendly and hospitable. Whether we were in the city or in the country, the charm of the Irish and the beauty of the country followed us everywhere.
Most of you know that Ireland is known as the Emerald Isle and yes, this island certainly does live up to the name. The velvet green grass clothed the hillsides as sheep grazed peacefully in the sunlight. The steep cliffs and the beauty of the ocean sent the message of richness and splendor as we experienced the coastline. The eateries were full of the Irish culture with plenty of corned beef, cabbage, and potatoes.
Very soon, people throughout the USA and across the globe will celebrate St. Patrick's Day. Those who are Irish, or at least Irish at heart, will participate in this holiday as they celebrate St. Patrick and the Irish culture with special parades, food, dancing, and the color green.
Perhaps for many, the meaning of this day is not embraced or important, but is just a chance to party. However, after researching this holiday I found these interesting truths about St. Patrick you might enjoy sharing with your children.
1. Patrick was born in Great Britain.
2. He was kidnapped at the age of 16 and taken as a slave to Ireland.
3. He escaped from his imprisonment after 6 years.
4. He was called by God to ministry during his time in prison.
5. He returned home and studied at a monastery in France for 12 years.
6. He was called by God as a missionary to return back to Ireland and its pagan culture.
7. He encountered and converted many of the Druids at Tara to Christianity.
8. He established Monasteries, schools, and churches across the country.
9. He used Irish traditional rituals in his lessons to convert the Irish to Christianity.
10. He was said to have used the Shamrock as an evangelism tool to explain the trinity
(Father, Son, and Holy Spirit) to his audience.
11. He brought the Gospel across the country to the pagan Celts.
12. He died on March 17 in Ireland after serving 29 years, baptizing over 100,000, and
planting approximately 30 churches.
The observance of St. Patrick's Day came to America in 1737. Over the years celebrations, traditions, and myths have transpired. Today if you were to ask children what St. Patrick's Day means to them, they might reply, "you better wear something green or you get pinched." Others might say, it's time to feel lucky and search for gold at the end of the rainbow or perhaps catch a leprechaun.
Many traditions of this holiday embrace luck and prosperity. If you were to look up the definition in the Merriam Webster Dictionary you would find that luck is defined as things that happen to a person because of chance: the accidental way things happen without being planned.
Teaching children to believe luck is in opposition to believing in a loving and sovereign God. Luck is determined by chance, possibility, and uncertainty. On the other hand, God is always completely in control, is certain about your future, He is always available to you, and He desires to provide for all of our needs at all times. He will embrace those who desire to embrace Him and He will never leave nor forsake anyone who has a relationship with Him (Deuteronomy 31:6).
Children are not lucky to have God in their lives; rather they are blessed to be called into His kingdom and known as Children of the Most High. I might suggest that instead of chasing after leprechauns and searching for a pot of gold this St. Patrick's Day, provide your children the opportunity to chase after God and search for His gold, which is life everlasting, full and abundant.
God is waiting to be caught! Happy St. Patrick's Day!