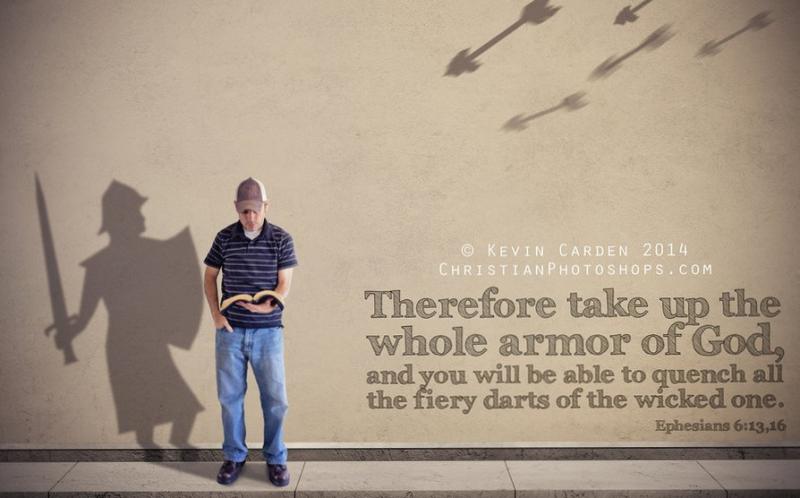 My heart is stirred by the spiritual battle raging around us all the time. Oh, that God would open the eyes of His children to see what He sees. I would that our ears might hear the clashing of swords and the clink of the armor that fills the spiritual realm. Praying believers are warriors who shield one another from the fiery darts of the enemy whose desire is to oppress God's children. Prayer warriors wage war against the enemy who grips tightly the unbelieving souls of those in spiritual darkness.
2 Corinthians 10:3-5 makes it clear that there is a spiritual battle. "For though we live as human beings, we do not wage war according to human standards, for the weapons of our warfare are not human weapons but are made powerful by God for tearing down strongholds. We tear down arguments and every arrogant obstacle that is raised up against the knowledge of God, and we take every thought captive to make it obey Christ" (The Net Bible)
Though we read of spiritual conflict in His Word, we are so oblivious most of our lives, to the spiritual battle that rages around us. Can you imagine with me that battle for just a moment? I fear that if feathers torn from angels' wings were to litter the streets they would be trampled underfoot, by people made of dust, who, would not recognize their importance.
The battle is fierce as each follower of Christ steps out of the kingdom of darkness and into the Kingdom of light. From the moment we choose to believe in Christ, we live in a war zone. We are opposed by principalities and powers that lay hold of the souls of men and chain them to eternal darkness. We also are harassed by humans who oppose the truth and hate the light which blinds their eyes and fills their minds with torment. As God's ambassadors to this lost and dying world, we struggle against fierce adversaries, but we do not struggle alone. Though God calls us this work it is not our hand or heart but His alone that bring redemption.
Charles Spurgeon said it like this, "What a battle He had in us before we would be won! How long He laid siege to our hearts! How often He sent us terms of capitulation! but we barred our gates and fenced our walls against Him. Do we not remember that glorious hour when He carried our hearts by storm? When He placed His cross against the wall, and scaled our ramparts, planting on our strongholds the blood-red flag of His omnipotent mercy? Yes, we are, indeed, the conquered captives of His omnipotent love." We love Him because He first loved us. The battle begins and ends with God.
Though He wins the battle we do wage war in it, those who fervently pray are often referred to as prayer warriors. It behooves us to remember that we are just children underneath all this heavy armor. As God's children we greatly need our Father to protect us and win the battle for us. He is Faithful as our glorious Creator God, He remembers that we are but dust. Psalm 103:13-14 "As a father has compassion on his children,so the Lordhas compassion on his faithful followers. For he knows what we are made of; he realizes we are made of clay." (The Net Bible)
Bringing the light of the Gospel to those in darkness around us is not always a pretty sight. It is after all a battlefield. "…we have this treasure in clay jars, so that the extraordinary power belongs to God and does not come from us. We are experiencing trouble on every side, but are not crushed; we are perplexed, but not driven to despair; we are persecuted, but not abandoned; we are knocked down, but not destroyed, always carrying around in our body the death of Jesus, so that the life of Jesus may also be made visible in our body." 2 Corinthians 4: 7-10 (The Net Bible)
If you are a believer of Jesus Christ there is a battle raging around you and many times in
you. You are not in this battle alone nor are you defenseless. But to ignore the battle is both dangerous and irresponsible. Your Heavenly Father has provided you with armor and weapons. Be sure to use them.