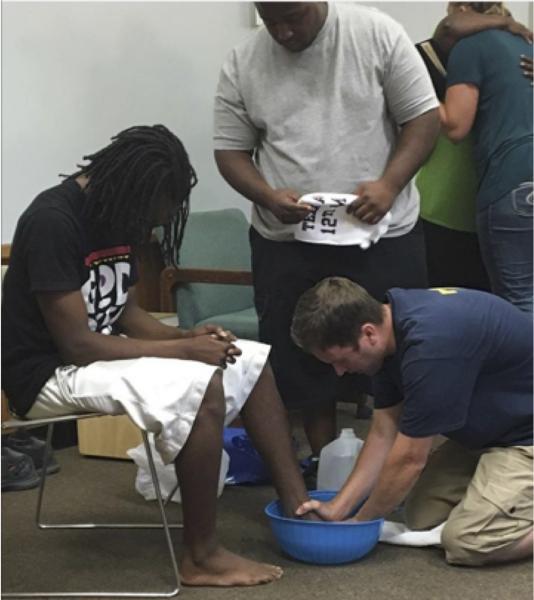 Two Different Narratives – Bridging the Racial Divide
Thursday night July 7, 2016 two church communities met for their regular joint meeting of two congregations: one a small house church and the other a small African American church both in Bryan, Texas situated within miles of each other.
The believers in each congregation have a commitment to support each other. This particular night a foot washing was scheduled – modeling Jesus washing the disciples' feet (John 13:1-17). The communities washed each other's feet. They prayed together; they had fellowship together; they encouraged each other.
When their meeting concluded, they left and returned to their homes.
Then, the news broke about the sniper shooting of the police who were protecting the "Black Lives Matter" protest on the streets of downtown Dallas. In a despicable act of violence by a lone sniper 5 police officers were gunned down and killed and 7 more severely injured while doing their jobs to protect the right of individuals to peacefully protest.
Simultaneously these two events happened – two stories from the same night, two events in the same time frame – but two different narratives. I was struck by the polar contrast – one event for the Glory of God and the other for evil intent. In the one – people created in the image of God came together to serve each other and to build a bridge. In the other – a lone gunman, also a human created in the image of God, made a severely destructive choice to do harm thus creating havoc, devastating grief and forever altering the lives of the families of those killed and injured.
Again, our country, reeling from recent terrorist acts, had a pall of horror, anger, fear, rage placed over it. The very profession that keeps our country safe was being attacked.
Again, we are faced with the question what do you do? How do you and I personally respond? How can you and I be a bridge builder not a widener of racial divide and gaps? Common sense tells us more violence does not solve the complicated issues we are faced with. And no one would agree with unwarranted police brutality; but the answer is not to promote an agenda of all out undermining of those who serve and protect us.
Consider these:
* We can cling to God's instructions and invitation for our own lives and rest in His sovereignty:
"He has told you, O man, what is good; And what does the Lord require of you but to do justice, to love kindness, and to walk humbly with your God?" Micah 6:8
* We can pray individually and corporately following the example of a pastor in Nashville, Tennessee. He had multiple prayer services to pray. Recorded is a powerful moment as Bishop Joseph W. Walker Senior Pastor of Mount Zion Baptist Church in Nashville, Tennessee prays for our young men and law enforcement. Bishop Walker models a Godly instructive way to teach, encourage and exhort the believers in his church. May the Church rise up and declare Jesus and His victory! Please watch this and share.
https://www.youtube.com/watch?v=akcwpNdQ890
* We can notice and replicate the model of the believers in the two churches in Bryan/College Station: Be intentional about reaching out to build bridges individually and corporately in each of your churches represented by this readership. See a blog posted almost a year ago that offers ideas on being a bridge builder.
http://blogs.bible.org/engage/gail_seidel/be_the_bridge_to_racial_unity
• We can pray for and support our local law enforcement officials who put their lives at risk to serve us.

"If my people, who are called by my name will humble themselves and pray and seek my face and turn from their wicked ways, then I will hear from heaven and will forgive their sin and will heal their land"
2 Chronicles7:14
Pictures courtesy of : Personal album of church member and
http://www.mlive.com/news/detroit/index.ssf/2016/07/funeral_for_slain_dallas_polic.html