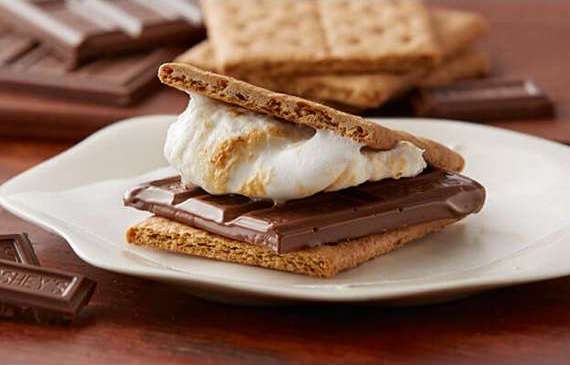 What's Wrong with Occasional S'mores and Brownies?
Last week, I read where the US Forest Service wants us to make our s'mores with fruit and marshmallow crème rather than chocolate and roasted marshmallows when we go camping. Half the fun of making s'mores is roasting the marshmallows over a campfire! And, isn't chocolate a vegetable? This week, I read where the children in Vermont could no longer have brownies served to them at school – not even one every once in awhile, just for fun! Are we so obsessed with 24/7 healthy foods that no one can have a treat even once in awhile without feeling guilt and shame over doing so!
I am all for eating healthy foods on a regular basis. That's just common sense. Serving healthy meals has been a part of my food planning and preparation for more than 40 years now. But, even as we ate lots of lean meats, fruits and vegetables as a family, we still left room to indulge in a bowl (or two) of Blue Bell ice cream on special occasions or just if we felt like it. For fun. Without guilt or shame. (Well, maybe just a little guilt after the second heaping helping!). Some of our treats had lots of chocolate in them. Sometimes we served ice cream over a brownie with chocolate sauce on top of that. That could get us thrown out of certain states or national parks these days!
What's wrong with the occasional treat? These days, Ron and I look forward to our regular Culvers night. If you have never had Culvers custard, and especially certain "flavors of the day," I will grieve with you. We eat wonderful, healthy food at home all week while planning our next trip to Culvers for a hamburger chased down with one of the smoothest, downright mouth-watering desserts we have ever known. And, we don't feel the least bit of guilt or shame about it.
I am so glad that the grace of God gives us the freedom to choose what we eat and to extend to others the freedom to choose what they eat as well. The average women's group has so many more dietary restrictions now than ever before. Some of my friends have true allergies to wheat, nuts, or dairy. Some just choose to not eat any meat or dairy. Creating a hospitable environment for a group means that I try to provide something for everyone to be able to eat when we get together. That's my exercising my freedom to serve them.
What crosses the line into legalism is when someone who chooses not to eat meat (dairy, chocolate, sugar) looks down on me or tries to make me feel guilty or shameful because I do eat meat (dairy, chocolate, sugar). That would be imposing her preferences on me as standards for me to follow, too. That's legalism.
If I go camping once a year, I have the freedom in Christ to roast big marshmallows over a fire, slap that on a slab of chocolate right between two graham crackers, and eat every delicious morsel of it without feeling guilt or fear of getting publicly reprimanded for doing so. Nor does anyone have the freedom or the right to make us feel guilty for enjoying our weekly Culver's custard (usually including chocolate). When it's one of our favorite "flavor of the day" combos, you just might see us there – guilt-free and unafraid.
---
More Resources:
Graceful Living Bible Study (read online)
Graceful Living Bible Study (download pdf)