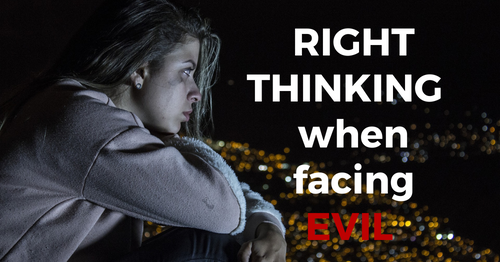 Right Thinking When Facing Evil
Listen to this blog as a similar podcast:
"Why, God?" The question that always comes up when something evil happens. Yes, something evil is happening in many places around the world, including right here in the United States. God does not do the evil. Evil humans do it. The next question is usually, "Why didn't God stop it?"
Now you are at the bigger questions, which are "Why does God let any of us do evil? Why doesn't He stop it if He is capable of doing so?"
Why doesn't God stop evil?
The true answer to this common question is that He does stop evil all the time. God stops more evil than we will ever know. Every day He is stopping evil. You may then ask, "Why doesn't He stop all evil?" To stop all evil would mean to stop all human freedom. Are you willing to give up your freedom? I kinda like mine.
People get very confused in their thinking, and we want to have it both ways. We want to be free and responsible except when bad things happen. Then, when something bad happens, we want God to be responsible for letting it happen. We blame God. Isn't that true?
You see and hear this every day every time there is a tragedy. God lets humans be free and responsible for what they do. We humans can't have it both ways. Either human beings are free and responsible for what we do, or we are not free and responsible for what we do. We can't blame God for humans doing wrong. The gift of human freedom allows for evil choices.
You don't have to have an answer for all bad things happening. In this world, all will not turn out well. When we are with Christ, we will have the whole story. Understanding this leads to right thinking in evil situations and helps us to avoid some wrong answers to the question, "Why, God?"
We need to know what to say and do when evil things happen. So, I will share with you a few cautions of what to say and not to say when evil things happen, when humans choose to do wrong and hurt others.
What to Say and Not to Say When Evil Things Happen
Caution #1: Don't minimize the evil or the hurt.
Don't quote Romans 8:28 and think that will bring comfort for the hurt.
You can say to the victim of any violent incident, "That was gross, black, terrible, straight from the pits of hell, and those people are responsible for what they did. But God is bigger and greater. And if you will trust Him, then one day, whether in this life or the next, you will see how He worked that bad thing into something good for you or for someone else. You choose what to do in the meantime. You can respond by faith now when things aren't ideal. Or, you can follow the pattern of anger, despair and self-pity and keep being the bitter victim."
Choosing the latter only contributes to the feeling of helplessness. It does not contribute to healing and hope. The Bible teaches us that it is far better to trust what God is doing in what He allows or doesn't allow to happen. That's hard because we want Him to fix it now.
Caution #2: Don't say, "I'm sure God has a plan or purpose for this."
Don't say that. It's enough to make people blow up at God. Delete that phrase from your file of "words to give comfort in times of trouble." You can think it. And, you know God will work out a purpose for allowing that to happen. But, God didn't cause that evil thing to happen. So, don't encourage people to be angry at God.
We think in "churchy" phrases and often throw these to others and forget where they really are.
Don't say: "I'm sure there's a reason why this happened" (because that puts the emphasis on God and why did God did this).
A better response would be, "I don't know why things happen in the world. I do know that God is good, that He is loving, and that you can go to Him for comfort. He will strengthen and help you. I know He is not finished with you, and He has a future for you."
Those things are absolutely true.
Caution #3: Don't say, "God's in control."
So, when a madman is killing people and you say "but God's in control," you are making God responsible for some evil person's actions. Don't say it!
The truth is that God is sovereign over all of human history and what He allows or doesn't allow humans to do. But, the evil is still evil! God is not doing it! The key is to trust God whether you understand or not. And, to believe that God works it eventually for good for someone. You might not recognize it being for you.
Caution #4: Don't encourage revenge.
Taking revenge is not ours to do. Revenge has no place in the gospel or in a Christian's life. In the New Testament, we are told not to repay anyone evil for evil. Do not take revenge, but leave room for God to enact justice. And, He will do it. Justice will be done—whether in this life through the legal system or after death. But, for now, Jesus calls us as individual believers to respond differently.
Our instruction in the meantime is this from Romans 12,
If your enemy is hungry, feed him; if he is thirsty, give him a drink; … Do not be overcome by evil, but overcome evil with good. (Romans 12:20-21)
When we take revenge, that is being overcome by evil. So, we must trust God to avenge the wrongs done to us in His time.
Truths to Remember While Waiting for God to Work
Truth #1: We live in a fallen, wicked, cursed world with suffering, evil and death.
We live in a war zone, both physically and spiritually. It is a broken world.
Truth #2: God has chosen from the beginning to give human beings the freedom to act.
When someone asks, "Why did this wicked thing happen?" Answer with, "An evil human being did this." Don't discount evil.
Truth #3: God promises to accomplish a greater good in and for all people who trust in Him (8:29).
He is conforming us to the image of His Son. Suffering is one of His tools to do that. The whole New Testament teaches that.
Truth #4: We live in the last days of the old creation that will not be fixed until Jesus returns.
Our great and powerful God will one day wrap up history and fix it. We live in the hope of this happening in our future. In the meantime, humans are free to do what they want to do.
The world is not always good, but God is.
To someone who is a casualty of this wicked world (cancer, death, rape, murder), try giving them this counsel:
"I don't know if there is any answer to this. But, I do know that Jesus said, 'Come to Me, and I will give you rest.' I know for a fact that if you go to Jesus Christ today, you will find comfort and rest from anxiety. He can fulfill that promise. The world is not always good, but God is always good. That's why you can trust Him."
As the Bible promises in Romans 15:4,
"For whatever was written in earlier times was written for our instruction, that through perseverance and the encouragement of the Scriptures we might have hope (Romans 15:4, NASB)."
We can have hope because we have God with us.
---
More Resources:
Old Testament Men Bible Study (read online)
Old Testament Men Bible Study (download pdf)
Trust God's Choice in Addressing Your Pain
Perseverance in the Rough-and-Tumble of Life
How Deep the Father's Love for Us
What's Left When Our Props Are Removed
More "Pain and Suffering" Articles
Image adapted from woman-6390279_1920.jpg at pixabay.com.