When is Good Enough… Good Enough?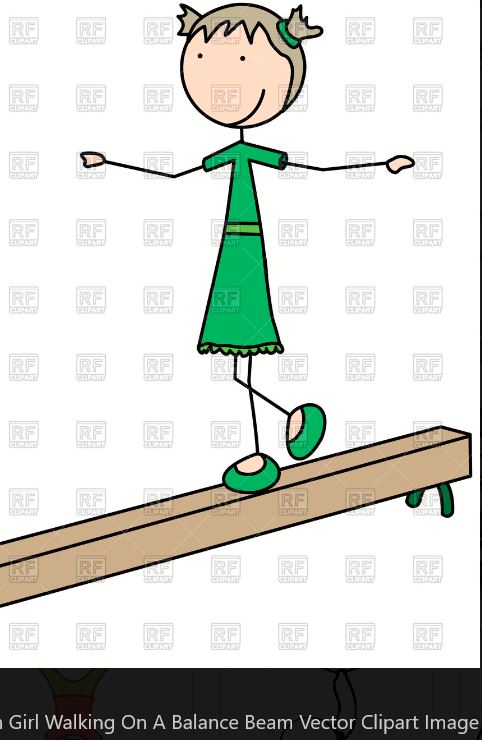 Imagine that the Christian life is like learning to walk on a balance beam. The Gospel helps us to mount and stand on His promises. Staying in balance is only possible because of Jesus. Colossians 1:27
Fall to the right and be immersed in a sinful endeavor to be good, to keep all the law of Moses. Striving for perfection and trusting in the ability to get it right. It is legalism, faking it until you feel you are making it. Working harder, self-righteousness, arrogance, pride, and delusions of glory. Here, ideas of being good guide us and our self-righteousness rules us.
Fall to the left, and struggle with blatant sin. Selfishness. Giving in. Giving up. Being okay with not being okay. Accepting world philosophies instead of truth. Hoarding earthly possessions. Over indulgence and addictions. On the left side feelings guide and self-gratifying desires rule us.
All people everywhere are working hard. Some work hard to be successful and look good in a religious endeavor to be good. Others work hard at being successful in getting and doing to satisfy their selfish need to do and have all that they want.
Both life styles are focused on self. Coming to Christ and living in Christ means giving up the idea of working to become. We are to find our balance in Christ not in selfish doing and wanting. We must learn to let Christ work in us, through us, and for us. It is not an easy lesson.
Do we set our children up to fail when our greatest focus is on what we have, how we look, grades, achievements, skills, and occupations? It is inevitable that what they can achieve or have will become their sense of self. Watching us fail to meet expectations, demean our sense of self, regardless of the work we might have accomplished,encourages them to work harder and do more or stuff failures down with self-indulgences.
Christianity is a life designed to teach us how to die to self. When focusing on looks, careers, vacations, and accumulating stuff, without meaning to, we often nurture and feed that selfishness. Life revolves merely around doing and wanting.
Selfishness is part of our fallen nature and will be a part of us until we are separated from this body of death. Romans 7
It is in trusting Jesus with our failures, our wants and needs that we are forgiven and redeemed. We are saved by the Gospel! We must learn to live by the Gospel! We are not and never will be good enough or have enough of what we want in this world. Jesus came to live, die, and rise; to be good enough for us. He is enough.
Christians are a work in progress. God is doing the work and we must learn to let Him do it. Our biggest and hardest job is being okay with letting Jesus be enough for us, It is work to learn how to let Him be our goodness, and to trust that He will finish the work He started of perfecting us.
It is hard work to let go of the things we want to have, to do, to be and to press forward in our knowledge of Who God is in Christ Jesus. As we learn the what it is He wants us to have, to do, to be, He works His mighty power in us, for us, and through us.
"For this reason I kneel before the Father, from whom every family in heaven and on earth is named. I pray that according to the wealth of his glory he will grant you to be strengthened with power through his Spirit in the inner person, that Christ will dwell in your hearts through faith, so that, because you have been rooted and grounded in love, you will be able to comprehend with all the saints what is the breadth and length and height and depth, and thus to know the love of Christ that surpasses knowledge, so that you will be filled up to all the fullness of God. Now to him, who by the power that is working within us is able to do far beyond all that we ask or think, to him be the glory in the church and in Christ Jesus to all generations, forever and ever. Amen." Ephesians 3:14-21 (NET Bible)