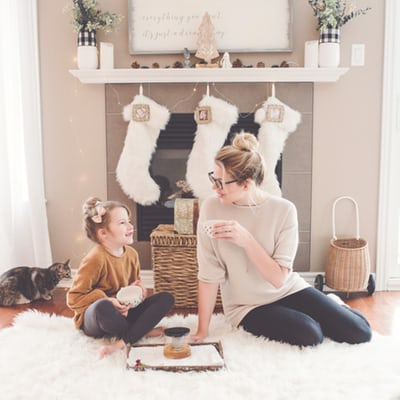 Why Your Age Matters in Women's Ministry; You're Not Just Welcome but Needed
When Mary heard the news about Jesus, she fled. Full disclosure, an angel of the Lord appeared to her, she learned that she would bear a child as an unmarried virgin, while engaged to be married, and the Holy Spirit prompted her to leave. So, to say she simply fled is a little misleading.
Mary was in crisis. There was certainly some tension within her. While she acknowledges that she is blessed and willing to be the mother of our Messiah, she leaves in "haste" as the Word says, to be with Elizabeth, a relative who is also experiencing a miraculous pregnancy (Luke 1:39).
Mary's search for wisdom and comfort
Mary does not hesitate to seek comfort in an older woman. So often, in our own crisis situations we hesitate to seek wisdom and guidance. Certainly, first and foremost we take refuge in the Lord and seek his wisdom. But He has also created friendships and communities that we can be a part of because as the body of Christ we minister to one another.
Elizabeth's Hospitality
When Mary enters the home of Elizabeth, we know the visit was a surprise.
"And why is this granted to me that the mother of my Lord should come to me?" (Luke 1:43).
Elizabeth greets Mary with such joy! As we read the narrative there is not a hint of hesitancy in her voice. Note, Elizabeth is 6 months pregnant! While she is likely a glowing pregnant woman, she is also likely weary. Surely, Mary's presence was also welcome, seeing as how Elizabeth's husband Zechariah had not spoken to her in the last 6 months. None the less, Elizabeth illustrates a wonderful picture of an older woman, enthusiastically welcoming a younger woman into her home. This is not a simple coffee date but a full, surprise invitation. Mary stays with Elizabeth for 3 months.
Oh, to be like Elizabeth. Would that we could have the heart of hospitality to so willingly welcome another woman in crisis into our lives so freely. It doesn't have to be a woman in crisis, all are in need of meaningful, intentional relationships with others.
However, there is a unique place for the older woman in the body of Christ. Older women are instructed to not only set an example of Godly behavior for younger women but to "train" them in the art of motherhood and being a wife, to name a few (Titus 2:3-5).
Elizabeth's example
She receives the younger woman without hesitancy and judgement.
She opens her home as a haven for an extended period of time.
She is a Godly woman, filled with the Holy Spirit.
It is not unusual to hear an older woman make statements such as, "I thought this women's ministry event was for younger women." Often, because a younger woman may have the energy to coordinate ministry opportunities for women, it gives the perception that it's a "young woman thing." The truth is that older women have much to offer. Do we somehow believe that it is God's will that the older woman should not attend functions with younger women? The book of Titus certainly reveals that this is not God's design.
There is power in intergenerational relationships
The story of Elizabeth and Mary illustrates the potential relationship available to women in different life stages and experiences. Sometimes, the Lord draws us together because of our common experiences. Sometimes, the Lord is trying to bring us together but Satan will whisper in our ear that our age is a hindrance. The Bible urges the young and old to be confident in their ministry, no matter the age (Timothy 4:12, Titus 2:3-5).
Sweet Mary, in her most vulnerable, initial moments of divine motherhood, seeks the wisdom of Elizabeth and is met with inspiring joy and kindness. Today, the good news of Jesus still brings people together.
If the church somehow succeeds in isolating older women from younger women, not only will we miss out on the joy and experiences we bring to one another, we will forsake the teaching of God. The Christmas season provides plenty of excuses to mix and mingle among women. Whatever your age and stage, be confident in what you have to offer one another. Strap on your Christmas pin or your ugly Christmas sweater, show up and be honest about what you need and generous with what you have to offer.