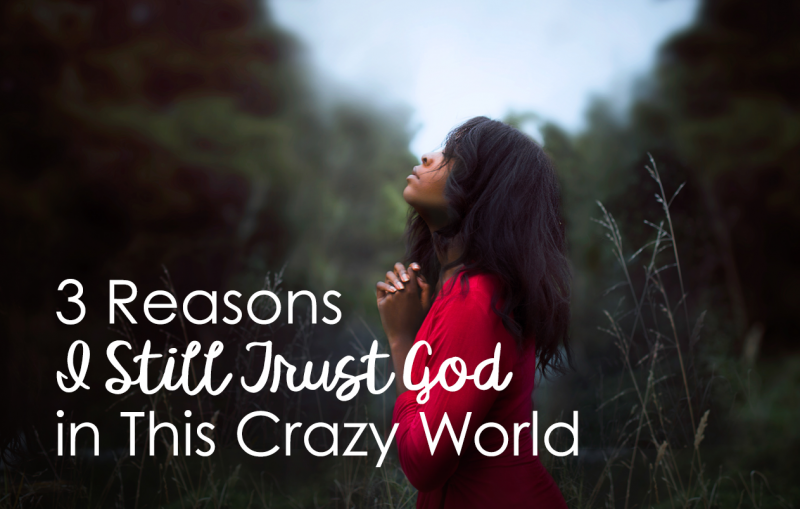 3 Reasons I Still Trust God in This Crazy World
I laid on the post-op bed after an emergency c-section. A guy in a doctor's gown stood at the end of my bed and told me something about my baby struggling to breathe and needing to transfer him to another hospital. They'd let me know more when they could.
I laid there unable to move from anesthesia, powerless, with a barren womb and empty arms.
God? Why? I trusted You.
My son lived and is now eight, but these past years since his birth, God's taught me the difference between belief and trust by enduring some difficult seasons and tragedies. I believe Him, but I haven't always trusted Him—at least not right away.
Like when my first child suffered from an intense skin disease and intestinal sickness.

Or when my brother-in-law committed suicide.

Or when we were homeless (but not roofless) for six months waiting on God to show us the ministry He wanted us to serve with.

Or when we finally found a home and the moving company disappeared with all our belongings.
In these challenging seasons, my belief in Jesus never swayed.
But trust—trust is something that shakes loose if we don't secure it tightly.
Have you ever questioned your trust of God?
If so, you're not alone. And here are a few reasons you might be able to fasten your trust of God as I secure mine.
Why I Still Trust God in This Crazy World
He is the way, the truth, and the life (John 14:6).
We cannot earn, buy, fake, or negotiate our way to eternal life with God.
So, I still trust God even though life's messier than the basement after neighborhood kids come to play.
We don't have to understand everything about God to determine if we will trust Him. His ways are higher than our ways. His understanding inscrutable.
What I do know: I don't always like what He allows for this time in eternal history. I don't like the pain and suffering I've faced—and others, much worse than I.
But I do believe that Jesus is the Christ, the Son of the living God. Therefore, I will trust Jesus the Son, God the Father, and God the Holy Spirit, three in one.
God is good (Mark 10:18).
The world is filled with wickedness and corruption because of the fallen state of the earth and humanity—but God is still good.
I cannot understand God's waiting—waiting until He returns to make all things right. There is a time He is coming that not even the Son knows. After then, there will be no more hunger—or pain—or death.
No more.
I cry out for no more. Dear, God! No more babies dying, sex trafficking or factory slaves. No more genocides and school shootings and corrupt leaders or people fleeing for their lives with nowhere to land.
No more!
Come to finalize Satan's destiny—the one to whom all this catastrophe is sourced.
And we wait.
I still trust God because God is good—and one day all shall be well, all matter of things shall be well.
He never leaves us (Hebrews 13:5).
I still trust God in this crazy world because He never leaves us. He has given us His Holy Spirit to live inside of us—a person of the Trinity with us all the time.
But sometimes the Spirit leads us to the wilderness—and like Jesus we are set in barren circumstances in the testing of our faith.
It can be hard to discern if God is testing us or if Satan is tempting us, but the reality is—our response should be the same: Trust.
God leads me to some rocky fields I much rather not farm and yokes me to Himself to march forward. Sure, His yoke is easy, and His burden is light, but I much rather not plough some of the places He leads.
Stepping out in faith? Um, let me think about it.
Loneliness? No thanks.
Parenting challenges? Rather not.
Joblessness? That's a "No."
Moving states—again? Let me just stay right here.
I can trust God because He has never left me when I've needed Him the most.
Where can I go from your Spirit?
Where can I flee from your presence?
If I go up to the heavens, you are there;
if I make my bed in the depths, you are there.
If I rise on the wings of the dawn,
if I settle on the far side of the sea,
even there your hand will guide me,
your right hand will hold me fast.
If I say, "Surely the darkness will hide me
and the light become night around me,"
even the darkness will not be dark to you;
the night will shine like the day,
for darkness is as light to you.
-Psalm 139:7-12
There are many more reasons I could write about, but any way I look at it: who have I in heaven, but God? And on earth, there is none besides Him. Therefore—even if the mountains crumble and the earth rushes into the sea, I will trust Him.
Usually with lots of questions, tears, and prayers.
This post first appeared on SeanaScott.org, a blog to encourage real moms in real faith.