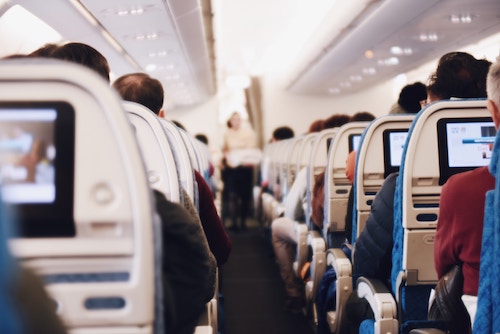 A Calamity of Air-or: The Worst Flight of My Life
What you are about to read is a true depiction of the absurd events that transpired on my flight. These reflections do not highlight my best self. This was the reality of being pushed to the brink at 31,000 feet.
To the left of me sat an older gentleman. He was courteous; however, there was an odor wafting up from his oversized coat. His puffy coat, harboring an unidentified smell, somehow began to expand, swallowing him up along with half of my arm. To the right of me sat a larger fellow, talkative, with a terrible case of sleep apnea. While I am fully sympathetic to those who need to fly that don't fit the standards of today's weight-conscious society, I found myself neatly folded into the crevice that used to be the middle seat. I was so flattened that my lungs began to compress and I had to put my arms above my head for any sort of relief. This is going to be one heck of a flight, I thought to myself.
Just as I was lamenting my situation, I began to hear the drum and brass section followed by incoherent shouts pulsing through my body. Could it be? I turned around only to discover that someone decided to delight the entire Boeing 737 with their music sans earphones! Dumbfounded by this infringement on the unspoken code of passengers, I decided to stare them down in displeasure. When that didn't work, I confronted them. While this temporarily shut down the concert, it later started again to which I had to call in the authorities by proudly pressing the flight attendant button.
It couldn't get any worse, right? I was reminded of one of my favorite books from childhood, Alexander and the Terrible, Horrible, No Good, Very Bad Day. I was certain I was living out the nightmare of the main character in that story as I turned to find the dear older man next to me mining his nose for gold as if he was part of the California gold rush! I was disgusted as he smudged them between his thumb and pointer finger. Not only was this man digging out snot boulders but I realized earlier that I had shaken his hand!
Desperate for escape, I closed my eyes only to be jolted by one neighbor's deathly cough and the other who made it his mission to grind every piece of ice in his cup to a powdery-fine substance. With every slurp and chomp, I could feel my patience fleeting.
When will it stop? I thought. What more can I endure? At my final breaking point, having endured one of the worst flights I can remember, I sighed a sigh of relief as I felt the landing gear make contact. I could not wait to stretch out my legs and get as far away as I could. Counting the minutes in my mind, I was shaken from my contemplative state when I noticed a large stink bug traversing the plentiful hills and valleys of my elderly neighbor's puffy coat. "You seem to have a stink bug on you," I said. To this he responded, "Oh yeah, I saw that little guy earlier, guess who caught a ride and didn't have to buy a ticket!" As he flicked it off of his coat I am sure I let out an audible scream as my boiling point had been reached.
Yes, a calamity of error is the appropriate term for the progression of the events that occurred over a two-hour period in the air, but I realized I stumbled upon a cheeky pun that I had to throw in. Back in the safety of my own car with my husband by my side, I began to recount my series of unfortunate events in great detail. We laughed at the absurdity of it all and finally with all the wisdom and spirituality that comes with not having been folded between two men in an airplane, he said to me, "Well, it could have been worse!" Could it have been worse? I just described to him again the compression of my lungs, the ice munching, the impromptu dance hall, the coughing, the sleep apnea, the stink bug, and the all-encompassing coat! And yet he told me with confidence… "It could have been worse."
Coming down from my rage-fueled high, I realized he was right. No matter my discomfort and exposure to unsanitary practices, I landed on the ground in one piece. You see, my husband has been really blessed by practicing thankfulness lately. It's more than just looking for the silver lining in the cloud, it is a lifetime of readjusting our thought life in the moment. No matter how terrible, horrible, no good and awful our moment feels to us, we can still be thankful. I realized how silly I must have looked to my heavenly Father, all bound up in angst over a silly string of events and I was immediately humbled by my husband's words.
Practicing thankfulness is not an easy task but when we make it a habit it can defuse the drama in even the roughest of flights. In Philippians 4:8 Paul gives us a practical step that can help reprogram our thinking.
"Finally, brothers and sisters, whatever is true, whatever is worthy of respect, whatever is just, whatever is pure, whatever is lovely, whatever is commendable, if something is excellent or praiseworthy, think about these things."
I believe these words are apt for today. Not only are we approaching Thanksgiving in the United States, but we also find ourselves today squished between the culture wars of identity politics. When one thing after another threatens your stability it is easy to overflow with anger in the chaos, but there is and always will be something lovely to think on. In my case my flight was uncomfortable but at least it got me to where I was going. That type of thankfulness can change your whole perspective.