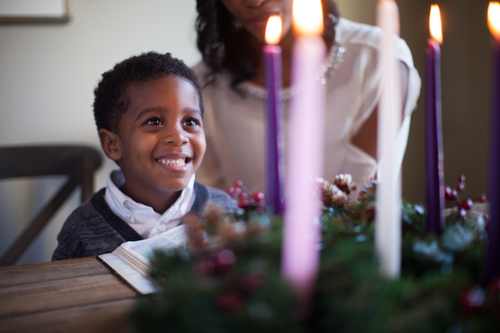 Steps to a Calmer, More Christ-Focused Advent
The word 'advent' comes from 'ad' meaning 'to' and from 'vent,' a form of a Latin word meaning 'coming.' Advent is the season when Christians look back on the first advent, or coming, of Messiah, and we look forward to the second advent—his return. New Year's Day in the church year, which follows the life and ministry of our Lord, begins this year on December 1—the day many Christians count as the first day of Advent. During the four weeks leading up to Christmas, a lot of churches observe Advent as a season of expectant waiting and the preparation of our hearts.
Two millennia ago as Israel awaited the Messiah, Herod—the kind of guy who ordered the killing of his own son— sat on the throne in Judea. Roman soldiers occupied Palestine and squished the slightest hint of uprising with violence. In that world scores of people who committed crimes like shoplifting hung nailed to crosses at eye level, lining roads as warnings. So much oppression; harsh punishment; corruption; power abused. Four hundred years had passed since Malachi promised the Sun of Righteousness would rise with healing in its wings. Four. Hundred. Years. Was Messiah really going to show up? Ever? All creation groaned.
Advent, in a sense, re-enacts that mood of longing and waiting. Consider the lyrics to the Advent hymn "O Come, O Come, Emmanuel," sung in a minor key:
O come, O come, Emmanuel
And ransom captive Israel
That mourns in lonely exile here
Until the Son of God appear….
Rejoice, rejoice, Emmanuel
Shall come to thee, O Israel.
Another Advent hymn is "Come, Thou Long-Expected Jesus." Even in the title we see the longing.
In some traditions, congregants hold off singing words like "Joy to the world, the Lord is come!" till Christmas Day. In both the Anglican and Lutheran Churches, Christmastide, commonly called the Twelve Days of Christmas, lasts twelve days, from 25 December to 5 January, the latter date being named as Twelfth Night (hence the title of the Shakespeare play of the same name). That's the time to really focus on Christmas. So while many of us are busy putting away our ornaments, wreaths, and trees, other Christians are just getting started. When I visited England during the first week of January a few years ago, I found cathedrals during those dark winter days aglow with candles and the fragrance of pine.
Whatever our traditions, most of us can do better in "preparing Him room." We too easily get sucked into the vortex of shopping and parties, spending and reciprocation. So, how can we make the season more focused on Christ? Doing so begins with being intentional. So set aside 30 minutes today and consider these nine ways to make Advent more Christ-focused:
Choose a reading plan. The YouVersion Bible app has a number of Advent options you can follow. Read through Malachi or Matthew. Or study the women in Jesus's genealogy. A dear friend gifted me with a copy of Fleming Rutledge's Advent: The Once and Future Coming of Jesus Christ. Rutledge is one of my favorite author-theologians, and her book is full of Advent sermons and reflections. Also, Dallas Theological Seminary, where I teach, publishes a December 1–25 devotional online every year. Order any resources now so you'll be ready on December 1.
Mark the days with a little ceremony. Advent wreaths and calendars help us focus on the weekly and daily countdowns to the day of celebration. I bought a lovely Advent calendar one year at the National Cathedral in Washington, DC. Note to self: Because I store it with the Christmas decorations, using it means I need to get decorations down before December 15. Same with the candleholder for the Advent wreath.
Give intentionally. Pray about how the Lord would have you give. Then collect coins and keep them handy, ready for the Salvation Army bell ringers. As for the bigger amounts, decide soon (with your spouse/kids, if you have them) what charitable organizations will receive your giving dollars. You will get bombarded by requests. Determine now to rejoice that so many organizations are doing good in the world. You don't have to feel guilty for giving only to a select few. Make a plan and enjoy giving. Also, list the people to whom you'll give gifts, and collect their wish lists. If your family exchanges gifts, ask your spouse and/or kids to tell you what they want. And carry their lists with you as you're out and about. Making homemade gifts? Get started. And think about ways to give meaningfully. A family member might appreciate receiving Grandma's holiday recipe in a basket full of all the ingredients or a book of Grandpa's old photos. Also, give to benefit others. Purchase fair-trade jewelry. Or donate a goat to an impoverished family in honor of someone who doesn't need another dozen pair of socks. Give books that inspire, music that lifts the heart, and even cooking, knitting, or art classes instead of expensive junk. Experiences make the best gifts, so give experiences when you can. If you have no money, consider offering the gift of your time—redeemable in January. Or perhaps you can sell some used books, an old couch, or some of that junk in the garage? Take ten minutes now to plan ahead. Remember the teachers and neighbors, delivery people, and salon servers in your life. And start ordering. Buy gift cards. Obtain crisp bills. Select food trays. Get done early what you can do now.
Write to encourage. If you sponsor a child, write him or her a letter soon (it may take a while to arrive) and tuck inside the envelope a bookmark or Christmas stickers—something that mails easily. As for cards or letters to your own friends, do you want to send those this year? If so, set aside a calendar date for getting them designed and ordered. If you write an annual letter, plan a time to do it; and keep it simple, warm, and humble. When you send that family photo, remember the reason for the season, and include it in your design. Order Christmas stamps from the post office web site. And while you're working on cards and gifts, print out mailing labels.
Fill your car with cheer. Carry some Granola bars and bottles of water for the homeless. And make an Advent playlist, including the "waiting" songs from Handel's Messiah, so you can hum along during drive time.
Be intentional about scheduling choices. List activities you want to do, and get them on the calendar before the rest of your life crowds out the important stuff. Church attendance. The kids' musicals. Christmas caroling. Or the holiday show you want to see. Schedule that tour of Christmas lights or the arboretum Christmas event. Need a day off work for Christmas shopping, baking, and a bubble bath? Ask for it now. If your health insurance has a December 31 cutoff, schedule any doctor visits before everyone else remembers they also need an end-of-year appointment. Also, look at what events you can cut temporarily to make room for what can happen only at Christmas.
Invite. In the craziness of the season, some deeply hurting people get overlooked. Consider who would appreciate one phone call or an invitation to an event you're already attending, like your church's musical. Some students far from home would love to fill a spot at your holiday table. And that refugee family needing friends: invite them to an informal New Year's Eve gathering (after Christmas is behind you) and plan to share your traditions with them.
Cook ahead. Start freezing dough so you can throw a batch of cookies in the oven on a moment's notice. Get the big mess out of the way so you can enjoy great sweets and smells later—and share with neighbors—without the time drain and sloppy kitchen. Double up freezing some healthful appetizers and meals while you're at it. Making chili? Create a double batch and freeze half so you can thaw it in the crockpot on one of those crazy days when you have a rehearsal, a party, and a pageant to attend.
Schedule quiet time. In the same way you might schedule cooking and football time, mark off some days. (Maybe this would be a good time to find out when the church parties, office parties, kids' concerts, and musicals will take place, so that I-need-a-costume-tomorrow demand doesn't catch you by surprise.) Include time to reset your focus with regular prayer, instrumental music, stretching exercises, hot peppermint tea, and time to savor the tree with lights twinkling.
To think further (more than the 30 minutes I promised) about this important topic, you can find lots of great ideas at adventconspiracy.org.
As we wait in anticipation for the day when the government rests visibly on King Immanuel's shoulders, let us keep him on the throne of our hearts. Jesus promised, "Be dressed for service and keep your lamps burning. Then you will be like servants waiting for their master to return from the wedding banquet, so that when he comes and knocks, they can open the door for him at once. Blessed are those servants whom the master finds on watch when he returns. Truly I tell you, he will dress himself to serve and will have them recline at the table, and he himself will come and wait on them. Even if he comes in the second or third watch of the night and finds them alert, those servants will be blessed!" (Luke 12:35–38).
Art by John August Swanson; permission granted with art CD purchase.