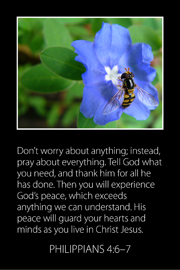 A Gift For You, A Gift to Give
I am delighted to republish this 2014 blog post featuring just AMAZING 4×6 scripture-plus-photography images that you can have printed for a penny apiece on the Snapfish phone app. I just ordered another hundred to give to nurse friends to share with their patients. 
Linda Tomczak, a gifted and generous graphic designer who works at Dallas Theological Seminary, has a contagious passion for the power of God's word. A number of years ago, when a family friend was battling cancer, Linda printed out a few Bible verses and handed them to the lady, saying, "I have found it helpful to read Bible verses when I'm anxious. They remind me that God is good, and He is faithful." When the lady ran into Linda years later, she pulled the now-tattered cards out of her pocket: "I read them all the time!"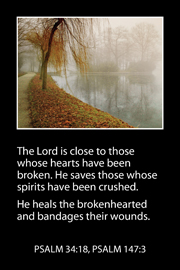 That was one of the first times Linda realized how easily we can minimize the power of God's word. And she decided to do something about it.
Linda ministers once a week to young girls in detention for drug rehab. In asking what would truly help "her girls," Linda realized they were hungry to have scripture in a format they could literally hold onto. She created and printed a number of 4×6 cards with beautiful nature art plus an encouraging verse or two from God's word, which her girls treated like gold.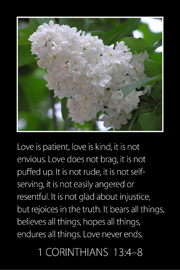 One girl asked, "Can I have another card? My dad's in prison and I want him to have one."
Another girl said, "I know you all love us because these cards are in color, and I know color costs extra money."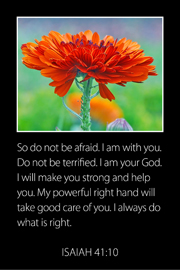 Linda soon realized the potential power of these simple, beautiful cards. She gave a set of them to a lady in the hospital who taped them to her restroom door, and doctors and nurses would come in to read her cards and write down the scriptures. The beauty and attractiveness of the format drew people like a magnet, but the power was in the Word.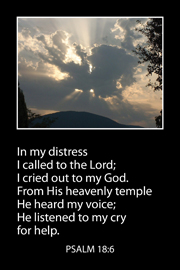 A hospital volunteer reports that when she puts Christian literature such as these cards in waiting rooms, they disappear. Hurting and scared people are hungry for what will comfort and encourage them. Linda's own time in an ICU waiting room, connecting with the family members of other patients, gave her an opportunity to pray for the patients and their families; being able to offer the sweet encouragement of God's word on her cards was an added bonus.
You don't have to work hard to find people who will gladly receive the gift of hope and comfort and encouragement when they're in pain. Linda has a way to make that easy.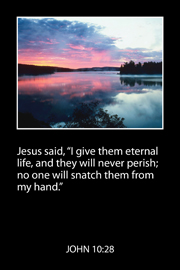 Online photo sharing and printing sites such as Shutterfly and Snapfish often offer "Prints for a Penny" sales. Linda's cards are high-resolution 4×6, which means you can buy literally hundreds for next to nothing. Even better, download the Snapfish app and you can get 100 free prints per month—you only pay for shipping.
Do you like the samples on this page? Linda created over 70 cards, which she's giving away for free because she believes in the power of God's word and she deeply appreciates Bible.org. You can download the high-resolution pictures in zip files here:
Bible Cards 1
Bible Cards 2
Bible Cards 3
Bible Cards 4
Bible Cards 5
Bible Cards 6
Bible Cards 7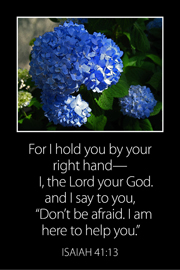 These are a marvelous gift to receive for yourself, but an even better gift to give to other people for a very low investment. Enjoy!
Addendum: Linda suggests: "When you order prints, I think they turn out better if you don't select the color adjust option. It sometimes tries to balance colors so the white isn't pure white."
This post was originally published on November 24, 2014.