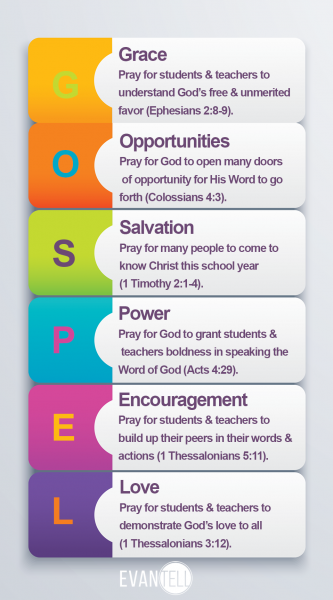 Back to School Prayer Acrostic
A couple weeks ago, my son bounded down the stairs before I left for work, proclaiming, "I am so excited!"
"Why is that?" I asked.
"I get to start Kindergarten," he proudly proclaimed. Then he marched over to our fridge calendar and showed me how many days until the start of the school year.
My older daughter, on the other hand, isn't so sure she wants summer to be over. She's nervous about a new class and fears it won't be as fun as last year.
Whatever your situation—starting school, packing a child's lunch, or slowly sipping pumpkin lattes—chances are you've got a lot on your mind.
Yet, no matter how busy our schedules…let's not forget a crucial element—prayer.
Will you join me over the next few weeks in a focused time of prayer for students, teachers, and their families?
To keep it simple, I am using the acrostic G.O.S.P.E.L:
G — Grace
O — Opportunities
S — Salvation
P — Power
E — Encouragement
L — Love
Tip: Utilize the infographic below I created for the ministry EvanTell (simply right click to save and share).