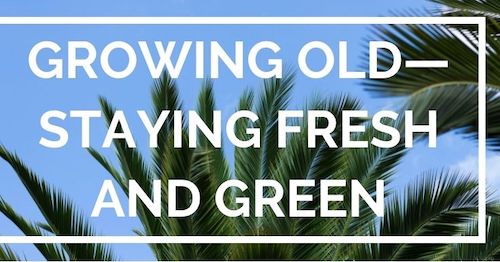 Growing Old – Staying Fresh and Green
Throughout Scripture, the Lord used many older people as His instruments of grace. He even called Joshua "old, advanced in years" (Joshua 13:1) and still wanted him to keep serving because "there remains very much land yet to be possessed." It reminded me that you and I as believers never retire from our calling to witness and work in God's Kingdom until He takes us home.
When you read your Bible, do words sometimes leap off the page at you? When that happens to me, I know the Holy Spirit is deliberately capturing my attention. God is definitely speaking to me through His Word at that moment. I've read that verse before, and nothing special happened. This time was different. "They [the righteous] will still bear fruit in old age, they will stay fresh and green…" (Psalm 92:14 NIV). Stay fresh and green. Yes, Lord, that is what I desire. I am in my sixties. Oh Lord, help me to stay fresh and green. But, what would that look like? And, why is that a concern for those of us who are approaching "old age?"
Earlier in that psalm, the writer says that the righteous are like trees planted in God's house that are flourishing. For years now, I have been flourishing as the life of God flows through me. That life of God has been bearing fruit through my own spiritual growth, my influence on others, my teaching and whatever else God has done in and through me. But, as I am now getting "old" in my 60s, I look around and realize the younger women are leading the ministries and doing the teaching. Yes, that is as it should be. Yet, I long to continue having influence and bearing fruit for Jesus. Actually, letting Jesus bear fruit through me. I long to stay fresh and green and not get hardened.
I am a gardener. Some plants definitely develop hardened stems over time and fewer leaves, blossoms and fruit. That can happen to Christians in old age as well. I've seen "retirees" retire not only from their day jobs but also retire from serving in the local church, having compassion on the lost, and discipling younger believers saying, "We've been there, done that. Let the younger folks do the work." I've been around older Christians who seem to do nothing but pass around alarmist emails about how bad our country is getting and how hopeless everything is. Their eyes are not on making disciples in their neighborhoods or retirement centers. I don't want to get that way. I don't want to get hardened like that. I want to stay fresh and green and useful to the Lord bearing fruit.
So, what is involved in staying fresh and green? To stay fresh and green, I need to stay tuned to the needs of the women around me—all ages, young to old—and how best to reach them, teach them. That's one of the reasons why I attended the IF:Gathering earlier this month. To stay fresh and green, I need to approach my Bible study with fresh eyes every day, looking for the new things the Lord will be teaching me and how I can share that with someone who needs to know it, also. To stay fresh and green, I need to recognize God's work in my life every day, not just what He did years ago. As Psalm 96:1 says, "Sing to the Lord a new song." It's okay to share the good old song of how I came to Christ. But, being aware of God's presence and goodness daily gives me a new song to share of what the Lord is doing in my life today. That's staying fresh and green.
I thank God for older mentors in my life who did stay fresh and green until death. In my role as a disciplemaking trainer over the past few years, it's been such a joy to see women in their 70s and 80s still sharing Christ with their neighbors and discipling other women. I love the older women in my Bible study who are passionate about Jesus and serving Him. My momma was still teaching children's Sunday School into her 80s. Staying fresh and green is a heart attitude and a choice we must make even through declining physical and mental capabilities.
"They [the righteous] will still bear fruit in old age, they will stay fresh and green…" Oh Lord, may this be true about me. Help me stay fresh and green as a flourishing tree that nourishes and refreshes those around me for the sake of Christ until the day I pass from this life into heaven.
More Resources:
To Be Found Faithful Bible Study of 2 Timothy (read online)
To Be Found Faithful Bible Study of 2 Timothy (download pdf)