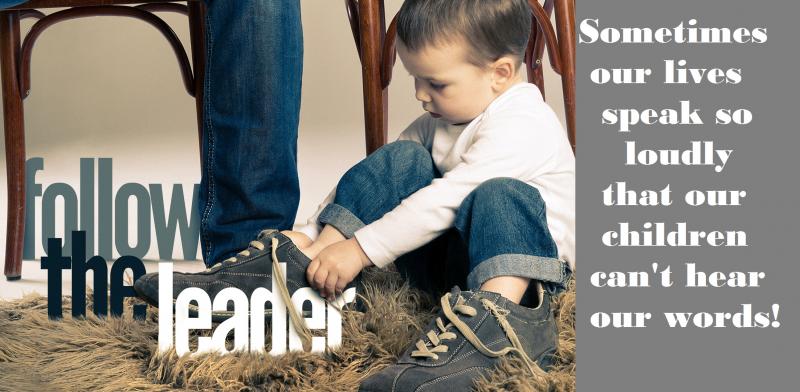 Christian Parenting Mistakes: #2 We Settle for Obedience
As I began my adventure of parenting I thought that obedience was the goal. If they were in danger, obeying immediately could save their lives. Unlike animals that are trained to follow orders, people by God's design were created to obey in the context of relationship.
In the great commission, Jesus doesn't just say, "go and teach them all that I have commanded you." He tells us to go and make disciples. Then we are to baptize and teach them His commands. The word "make" means we will invest time and ourselves to build a relationship. Obedience is meant to come from a willing heart. Who better to disciple than our own children?
The definition of a disciple is a willing learner. Commitment to the teacher produces hearts receptive and willing to obey the teaching. Jesus didn't say that keeping His commandments will make us love Him. He said, "If you love me, you will keep My commandments." The fruit of a loving relationship is obedience. If we truly want our children to obey then we must teach them how to love.
Admittedly, it is much easier to vocalize what is right than to lovingly and consistently example it. We can't be perfect like Jesus but we can't let that move us toward, "Do as I say not as I do." To be good teachers, we just need to know how to "fail forward." We need to be good at admitting our faults, quick to repent, and willing to try again, the Gospel in a nutshell. We fail in a manner that will move us forward.
We need to admit when we are wrong, be quick to say we are sorry. Falling and getting back up determined to try again is how we walk in grace. This kind of living teaches our children how to live in grace with their own humanity.
There are times we must demand certain actions from our kids as we train them in ways that will help them in this life. However, when we demand what we are not willing to live, we have crossed a dangerous boundary. Obedience, the kind that God asks of us, is not as much about getting it right as about nurturing a love that makes us want to be like our Father.
We insist they use respect and kind words towards us and one another. Yet, they see us in arguments with our spouse, our parent, or our siblings when we are not respectful, kind, apologetic or gracious. Or worse yet we fuss, fume, and are unkind in our moments of correcting them for acting that way.
We supervise imposed apologies. If they fail to comply we send them to their rooms or some other form of disciplinary action until they do what we want. We coerce them into being kind and gracious even without a change of heart. Rewarding their half-hearted obedience while punishing their sincere anger or frustration conflicts with our lessons on honesty. Not to mention that sending them off in anger speaks of holding a grudge ourselves. If we settle for obedience on demand rather than dealing with the issues of the heart, they will settle there too.
Paul could say, "follow my example in following Christ." He wasn't just teaching Christianity. He was living it. It was everything to him not just something he tacked on, a prayer before a meal, a Sunday morning Bible story, a once a week worship service, or ten-minute family devotional. He showed His love for Christ in the way he lived relationally with people, in his work ethics, and in his life choices.
People who by faith passionately love Christ with all their heart, mind, soul, strength, and resources, will love one another. It is the natural outpouring of our love for Christ. We can be contagious Christians.
We can share our faith by word of mouth but in the end our actions speak louder than their words. Christianity is better caught than taught. Actions always speak louder than words. What are our actions saying?