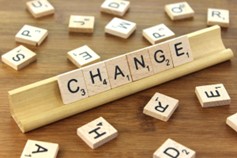 Change comes to all of us. From birth we are changing, learning, and growing. Having to deal with all those changes as well as moving from a familiar teacher and classroom to a new one can be overwhelming. .At the end of summer is when our children usually face a new classroom either at school or church and sometimes both at once. When these kinds of changes come, they could feel like a ship tossed on a raging ocean of emotions, doubts, and fears, unless they have an anchor for their soul, a safe harbor to sail into for a respite from the storm. Jesus is that safe place for all of us.
Just like we will help them put different things into their backpack at the beginning of each new school year, so we too need to help them have the right things in the backpack of their hearts. Making a successful transition is all about managing our emotions as well as our beliefs. How can we best use our summers to prepare them for transitions in the fall?
All feelings are good, but all responses to feelings are not. Discerning when to hang on to a feeling and when to let one go is an important lesson. There are things that we would not encourage our children to take to school with them because it would not be helpful or might even be harmful. Even so, some emotions that our children will experience as they leave one classroom and go to another need to be examined and many of them discarded or replaced. Chewing gum too long becomes tasteless and harmful to our jaws and teeth. Feelings like anxiety, bitterness, jealousy, and unforgiveness are feelings that come from letting our minds chew too long on a fear of the unknown, a harmful comment, a past hurtful deed done to us, or a failed expectation. These feelings sometimes get stuck in the backpacks of our heart, and we need to replace them. Fear with anticipation, bitterness with thankfulness, jealousy with kindness, and unforgiveness with forgiveness, are a few of the feelings that will need replacing. Good intimate communication daily will help you recognize these emotions and give you opportunities to help your children successfully transition through those difficult emotions. Use this summer to find many creative ways to spend time alone with each child in your home listening to their hearts. If you are a teacher, you can creatively ask questions as you teach that could help your children share their hearts with you.
What about the things in your child's heart backpack that they believe? How can you help them make sure to pack the truth and throw away the lies? What difference does having truth in their hearts make in helping them have a successful transition? These are great questions and I think if we look at our own lives, we can see the importance of the answers. Adults have this in common that they like their days to run smoothly without unexpected inconvenient interruptions of difficult conflicts. Children feel the same way. They want things to go the way they want things to go. In all honesty, life's interruptions are our most powerful teaching moments. How we react or respond will reveal what we really believe about God and about them. Stopping to pray is a powerful way to deal with glitches in our agendas.
 Practicing God's presence teaches that God is bigger than our problems. Treating a child as valuable, with respect and kindness, even when they are our problem, communicates God's love for them and our love too. Take some time and plan how you can lovingly respond to questions or acting out. This teaches children that everyone is important to God, even one labeled, "the bad kid." Over time their actions will change as will how they view God, themselves and each other. Use your classroom to teach children to expect interruptions in life as God's plan for us to practice what we believe.  This will plant deeply the truth that He is in control and will go far in preparing them for conflict in the future. Having a sold belief that God is with us and loves us will make all the difference in the world in helping them to turn from anxiety to anticipation when it comes to change. Summer is the perfect time to nurture our relationships and to prepare our children for the changes we know they will face in the fall.