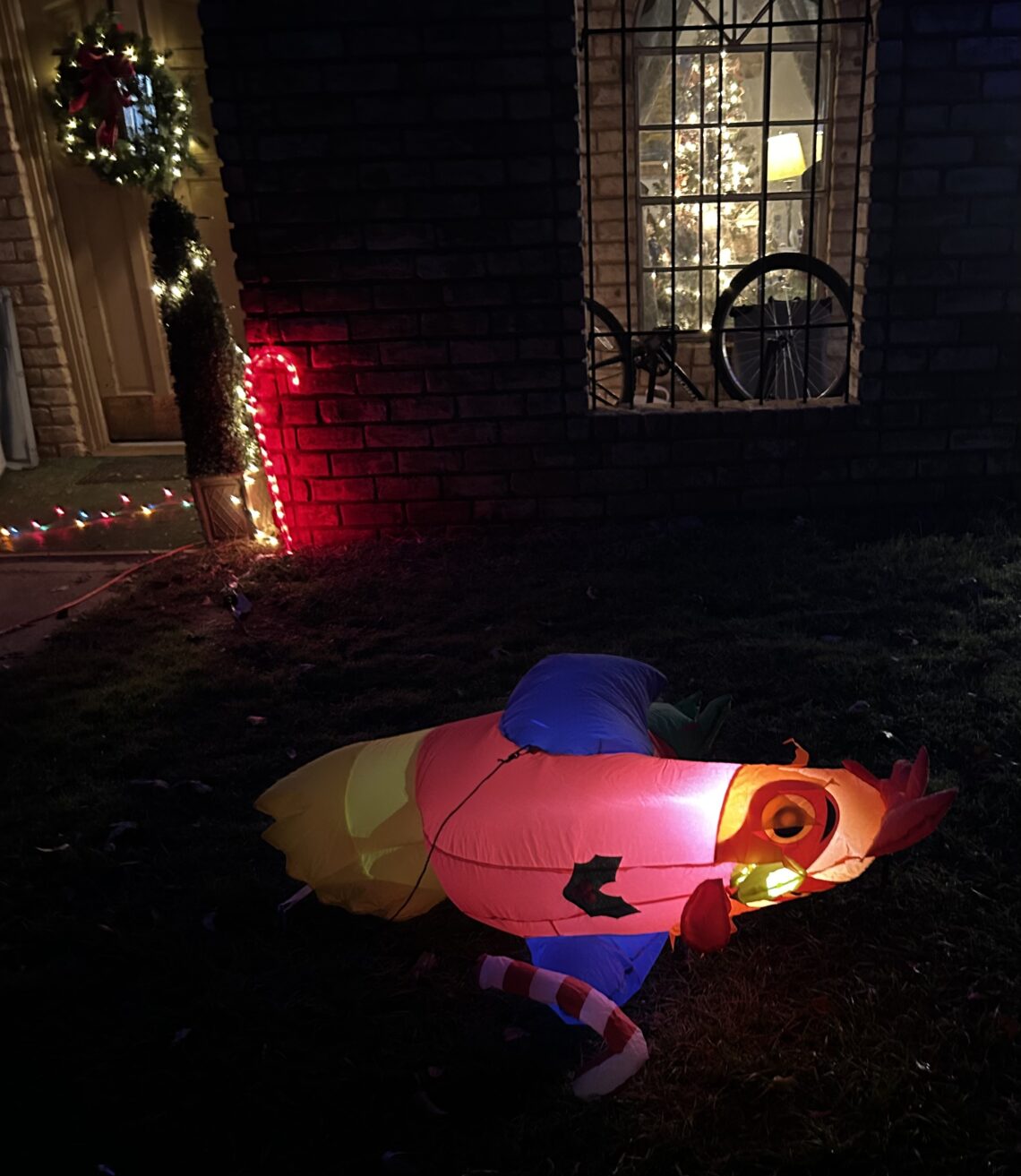 Even my Christmas Chicken is Sideways
Sometimes life feels sideways. Recently, my husband and I parted ways to attend various Christmas activities at our respective places of work. He was fortunate enough to take our three children with him to his event while I sat through a quiet adult evening. When my husband came home, he informed me that the front door to our house had been left wide open for the duration of his two hour trip. I am happy to report that we did not acquire any new neighborhood cats during that time.
I came home from my event later in the evening to find our decorative Christmas chicken lying on its side in my front lawn; looking dejected and confused, one could even say exhausted.
I laughed to myself as I imagined the scene of our front door wide open and our silly Christmas chicken lying on its side. What an image of how things feel in the chaos of our lives.
Sometimes I don't know whether I should laugh, cry, or just sprawl out all over the front lawn like the chicken.
My thoughts wander to Mary. How disordered life must have felt to be young, unmarried and suddenly with child. I'm grateful for the angel that brought news of both chaos and comfort to Mary. Somehow chaos feels manageable if God is able to audibly remind us that what we are going through is not unknown to Him and could even be part of his grand design.
"For God is not the author of confusion but of peace (1 Corinthians 14:33)."
This world is full of disorder, but God offers us His peace and presence despite the chaos.
We sing of "Peace on Earth" during the Christmas season but I find as a mother of 3 young kids that the Holidays have equal opportunities for extraordinary busyness and a delightful time with family. I am a little jealous for Mary and the angel. There are times when I would like for God to speak to me, tell me His plans, tell me I am doing a good job and things are going to be okay. That reassurance feels peaceful and grounding in the midst of life's unpredictability.
Thanks be to God that he we have the living and active word of the Lord and the powerful Holy Spirit to walk alongside us, leading us with ancient truths and declarations that are just as powerful as any angelic declaration has ever been(1 Peter 1:23, John 16:13, John 14:26, 2 Timothy 3:16-17).
I did straighten up my Christmas chicken but I also left the random strands of lights that my kids have scattered about the porch and the lone dangling candy cane; reminders that while it looks like chaos to me, it's all part of the plan.