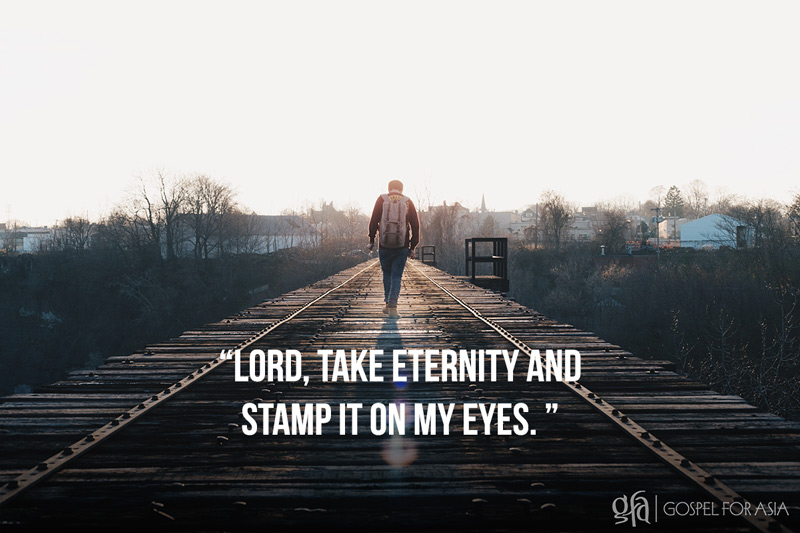 Perspective is everything. The lens we use to see will determine how we prioritize our activities, our necessities, and our indulgences. Recently a friend shared with me an illustration used by Francis Chan. He pointed to a rope on the stage where he was standing. It began on one side of the stage and extended across the stage and off the other side as though it went on forever. The beginning section of the rope was dyed red. It was just a tiny little section of a very long rope. He asked the audience to imagine that this was the extent of their life on earth. The rest of the rope represented eternity.
As a child a room or an adult can be huge and forbidding. Going back to view them as an adult, we will find them surprisingly smaller than we remembered. Perspective does make a difference.
Learning to have the best perspective is essential for a believer in Christ. We would be wise to ask ourselves the question and to teach our children to think in terms of how important is the decision I am making? Is this decision something that will only affect me short-term or will this make a difference in eternity? The things that will make an investment in eternity are the decisions that should be most supported by our mental, emotional, physical, financial, and spiritual resources.
The average person spends one year of eighty learning to walk. They spend about five years of eighty learning to feed and dress themselves and communicate their needs. They will spend the next 12 to 20 years educating themselves to determine their means to establish their wanted life style. About one-third of their life will be about learning the skills to independently live well on earth. The average person will need on going education and probably counseling to master the workplace and relationships.
Parents often encourage children to go for the gold when it comes to education, sports, and the arts. Sunday Worship is often sacrificed to succeed well in extracurricular endeavors. Many sacrifice the treasures of eternity on the altar of self-achievement that will end at death.
The years ahead may look long and important. Daily decisions often seem big and impending. Humans like to be in control of their future and so they work hard to invest their days to insure a good job, lifestyle, and retirement. Yet our few years of adult success are not even a drop in the bucket of time we will spend in eternity. How wise are we to sacrifice eternal riches on the altar of temporal success? We need to check our decisions against their eternal value. Everything gains its proper value when looked at through the lens of eternity, people, truth, successes, and even our suffering. Where are we investing our hope and resources, on the here and now or on eternity with Christ? Where and how are we teaching our children to invest?
Jesus said, "Do not accumulate for yourselves treasures on earth, where moth and rust destroy and where thieves break in and steal. But accumulate for yourselves treasures in heaven, where moth and rust do not destroy, and thieves do not break in and steal. For where your treasure is, there your heart will be also." Mathew 6:19-21 (Net Bible)
We also read in 2 Corinthians 4:16-18 (Net Bible) "Therefore we do not despair, but even if our physical body is wearing away, our inner person is being renewed day by day. 17 For our momentary, light suffering is producing for us an eternal weight of glory far beyond all comparison 18 because we are not looking at what can be seen but at what cannot be seen. For what can be seen is temporary, but what cannot be seen is eternal."